The Time and Efficiency of Information Gathering has been Greatly Reduced. The Support Platform is one of the Major Attractions of the Chinese Version of SPEEDA.
Q: How do you use SPEEDA in your general business?
Mr. AMAO: We outsource this as desktop research for new business. Unlike the Japanese market, Chinese customers make decisions very quickly. Therefore, it is important to get the latest information quickly and use it to make recommendations.We use SPEEDA to gather information quickly.

SPEEDA's industry reports contain a large amount of information about the markets and technologies that have been formed, so it is very useful when you want to get a rough idea of buzzwords such as smart home. In addition, we can combine the information gathered through SPEEDA to create profiles.

If you don't see the latest information in the report, please contact Support Desk.

Cutting-edge information that is not reflected in industry reports, even press articles and white papers issued by countries and companies, can be commissioned through the customer service department.

As for the last enquiry, I received not only overview information but also detailed information and examples of seminars that I could refer to, which was very useful. I immediately attended the seminar where the information was provided and all the information provided was used effectively.
Q: What are the features of the SPEEDA Support Desk?
Mr. AMAO: In fact, when I was introduced to SPEEDA's Support Desk, I initially envisaged it as a generic troubleshooting reception, but in fact this greatly exceeded expectations.

The high reliability of the professional consulting service within the reception also appealed to us. I'm also using SPEEDA in Japan, but the biggest advantage of the Chinese version of SPEEDA is that it can search for information outside of SPEEDA.

To be honest, employing a research company is expensive and time consuming, but SPEEDA's Support Desk can give you quick access to cutting edge information. For us, SPEEDA Support Desk is like a member of the team or a dedicated researcher.

We are encouraging our team members, including local members, to actively use the desk. The other day, we held a SPEEDA instruction session in order to consolidate the use of the customer service reception.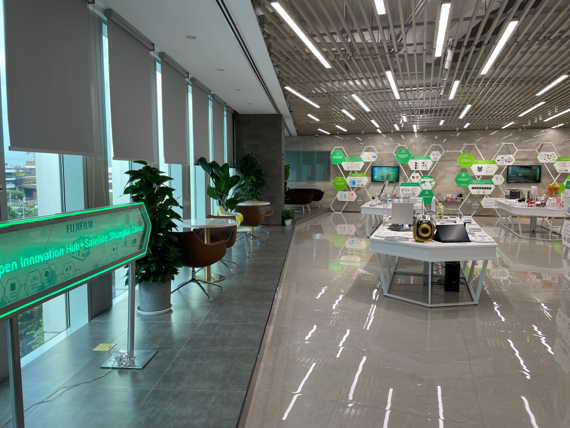 Q: What's your future prospects for the business?
Mr. AMAO: As we develop new business, we will outsource information gathering to SPEEDA and thus we will be able to find more time to think . The ideal approach in driving new business development is to create an organization that is more capable of thinking and driving both individually and as a team. It is hoped that SPEEDA's support department will continue to help with the development of new business.
Q: If there is anything you would like to pass on to other companies who are considering adopting the system, please let us know.
Mr. AMAO: In order to fully collect primary information, a certain level of information gathering skills is required. But with SPEEDA you can outsource bespoke surveys and collect comprehensive information immediately. That's why we recommend it to companies that need these resources.

Not only can it be used as a tool, but it also provides very complete information gathering support, which we believe will be welcomed by many companies.

SPEEDA is much more cost-effective than adding new resources for survey purposes, or using a survey company for initial surveys, so companies that have cost-cutting and business efficiency as a topic should definitely do so. How about trying to think about importing?
Thank you!

Fujifilm (China) Investment Co., Ltd.
(China Legal Representative)
www.fujifilm.com.cn
Features
Fujifilm Investment Co., Ltd. utilizes the technology and experience it has accumulated in film to operate in three areas: health care, materials, and imaging. We contribute to solving problems in a variety of fields every day in order to improve people's quality of life and achieve a sustainable society.
Type of industry
Mechanical and electrical
Sector, branch of service
High-performance Materials - New Business
Main usage scenarios
New business development, the latest movements and trends, industry analysis

Fujifilm (China) Investment Co., Ltd.
(China Legal Representative)

Mr. AKIHITO AMAO