To Improve Operational Efficiency by Improving the Speed of Information Collection and Meanwhile to Address Both Quality and Quantity Issues
Q: Do you see any merits from the introduction of SPEEDA?
Mr. HITSUMA: The efficient use of time is the biggest benefit. With SPEEDA, we can gather a lot of information once and for all, it is easier to make decisions and we can spend the extra time on analysis.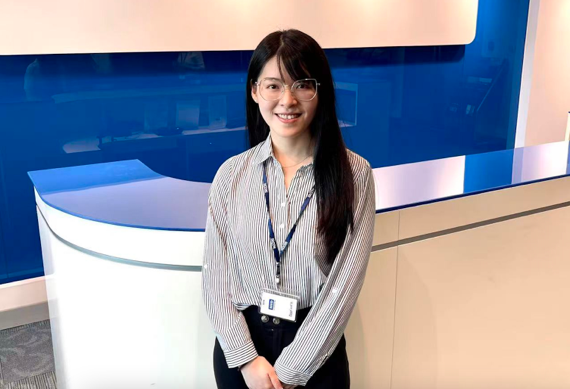 Ms. Wang: Before the introduction of SPEEDA, the sales department did not use a business information gathering tool. Now, we use the SPEEDA website to search for information on the target customers required by each local business and collate the information to create a sales target list.

Previously, it was the local company's sales team that searched for business information online and collated it themselves. By using SPEEDA, the speed and accuracy of information gathering for businesses has been further improved.
Ms. Zhou: At the Innovation Centre, the issue of gathering reliable information quickly is a problem when building a business case.

Previously, it took a lot of time to collect information by checking through multiple websites to see if the information was trustworthy. However, with SPEEDA, not only is it possible to obtain comprehensive information once and for all, but the source of the data is also trustworthy. In addition, SPEEDA includes data and graphs that can be used directly to create information, so you can shorten the time it takes to produce information. Apart from increasing business efficiency by using SPEEDA, the ability to give users reassurance because of the high quality of the information is also a benefit of using SPEEDA.
Q: Please let me know if there are features and contents you particularly like.
Mr. HITSUMA: I mainly browse the homepage for macro information about China. The composition of the homepage is very simple and easy to understand, showing all the trending keywords, so that you don't need to enter keywords to get information, which I really like. In addition, frequent references are the information which is made on related areas and areas of interest based on trending keywords, etc. In addition to the convenience of gathering the necessary information, I also like the variety of information available, such as events, the speed of information updating, the considerate support service that provides answers within 30 minutes, and the customized research service.

The information overlooking the relevant industries, the technologies needed for the future and the markets that have the potential to become business partners are also part of the charm. It is interesting to observe the rising rate of sales and profit in the different national industries to get a visual grasp of areas and trends that have development momentum. Other employees also seem to look forward to attending the SPEEDA seminars every time.