Wearable Devices: Is Growth Wearing-off?
 The wearable devices (or 'wearables') industry has changed rapidly over the past few years, with industry giants such as Fitbit and Apple (iWatch) losing market share to rivals, such as Xiaomi, that produce more basic and cheaper products. Data we have observed from Alibaba trading platform indicate that the supply of low-cost generic brands, shipped mainly from China, have already flooded the industry. This means that the wearables have become  heavily commoditised today: they are mass produced to sell at low price points and have nearly identical features across products.
 One of the leading technology hubs in Asia, Shenzhen is the manufacturing base for majority of the wearables, which are closely identical in design and features. In Shenzhen, upstream component manufacture and design occur in a shared ecosystem, and this allows manufacturers to maintain an advantage over Western peers by keeping their costs considerably low. Further, visible trade practices such as IP sharing and the use of open-source hardware also help manufacturers there to keep down key costs.
 The industry outlook is currently gloomy due to the combination of continued crowding of low-cost generic products and a failure to adequately enhance user engagement, durability, and value for money (due to low accuracy). Most industry research firms including International Data Corporation (IDC, a provider of market intelligence and advisory services) have cut market estimates over recent months. The slow-down in the industry has proven challenging for most companies to operate, with pure play companies as Fitbit falling short of investor expectations due to absence of a clear strategy (that has led to loss of market share). Fitbit saw its market cap fall to one-tenth of its value over three years since 2015 (December 2018 market cap: USD 1.2 billion; July 2015: USD 11.6 billion).
 The evolution of wearables to devices that are more reliable in monitoring emotions, stress levels, blood pressure, glucose levels, eye movements, VO2 max (an indicator of the body's oxygen use) and in carrying out electromyography (EMG) and electroencephalography (EEG) could bring growth to the industry and provide companies opportunity in other industries as healthcare. However, raising user engagement remains a key point for sustainable industry growth; where a service model needs to be incorporated to the devices usage rather than purely excelling in hardware.
---
Wearable Devices: Is Growth Wearing-off?
 Wearables: Simple Devices (Mainly Wrist bands and Watches) Driven with Multiple Functions
 Wearables comprise numerous types of devices capable of tracking steps, measuring heart rate, counting calories, and monitoring sleep. According to IDC, close to 95% of wearable shipments in 2018 comprised of wristbands and watches (or wrist-worn wearables). Wristbands and watches are generally categorised in the industry as basic wearables and smart wearables (including smartwatches); according to IDC's definition, the distinction between smart wearables and basic wearables is that only the former can run third-party apps.
Wristbands and Watches Account for Nearly 95% of Wearable Shipments, 2018
Source: IDC Quarterly Publication
 As the application programming interfaces (APIs) and the software development kits (SDK) of smart wearables are publicly available, small developers can use them to create Android or Apple iOS apps that can directly retrieve data from wearables. Most generic wearables in the market, however, do not have this attribute, and instead limit users to proprietary apps.
Most Major Smart Wearable Brands with High Price Points Are Open to Systems Integration
Source: National Centre for Biotechnology Information, USA; product prices are compiled by Uzabase as of January 2019 from Amazon considering the latest available product range.
 Wearables have increasingly become commoditised — basic wearables in particular — with their features (e.g. step counting and the monitoring of sleep, calories burnt, heart rate) and designs being almost identical across products. Moreover, based on our observation, vendors of basic wearables compete mainly on price, with very low price points compared to most smart wearables.
 Using data gathered on smart wearables and basic wearables (fitness trackers) sold through Alibaba's trade platforms, we identified close to 720 manufacturers who sold basic wearables, nearly 70% of whom were based in Shenzhen. Close to 73% of the devices listed by the manufacturers were priced below USD 70, while the equilibrium price (or the ultimate transaction price) was around USD 25–30. It was common for vendors to be based in Shenzhen, given that the manufacturing hub offers superior hardware designing, easy component sourcing, and manufacturing efficiency, in turn lowering manufacturing cost and cutting lead time to the market.
Most Generic Wearables are Priced Below USD 70, in Contrast to Branded Counterparts
Source: Aliexpress, Amazon
Equilibrium Price for Transactions were in the USD 25-30 range
Note: The demand curve represents buyers' purchase preference at each price range; prices are as of January 2019
---
 Shenzhen a Key Contributor to Commoditisation of Basic Wearables
 Located in the southern part of China's Guangdong Province, Shenzhen is one of the Pearl River Delta's modern metropolitan cities. The city is one of the leading technological hubs in the world, due to its low-cost and efficient manufacturing environment that permits impressive production speeds. Prior to being China's first special economic zone in 1980, the area was called Bao'an County and comprised a number of fishing villages. According to the Municipal Bureau of Statistics, Shenzhen recorded GDP of CNY 1,949.3 billion in 2016, compared with CNY 2,232.6 billion for Hong Kong. Shenzhen was the main contributor of Guangdong Province's industrial value added, generating CNY 719.9 billion in 2016.
 The city's highly developed ecosystem, centred around hardware manufacturing, evolved partly due to its open-source hardware practices. A term derived from 'open-source culture', 'open-source hardware' commonly refers to the development of physical products, machines, and systems through the use of publicly shared design information, material lists, and manufacturing methods. Today, open-source hardware is key to Shenzhen's ecosystem.
 There are numerous views on the legal aspects and ethics behind intellectual property (IP) sharing (or IP theft). According to the USA's National Crime Prevention Council, the Chinese government's regulations governing IP sharing are insufficient, and this creates an environment that promotes counterfeiting. Based on OECD data, close to 85% of counterfeits seized globally in 2013 (latest data available) originated from China and Hong Kong.
 The IP sharing enables producers in Shenzhen to bring down lead time to the market. Further, the hub allows them to be agile and responsive to the market and to thereby capitalise on market trends. This effect is clearly seen in the use of sensors in wearable devices. Sensors such as gyroscopes, barometers/altimeters, magnetometers, and GPS were developed in order to improve the accuracy of movement tracking (direction, altitude, position, etc.). Sensors such as Photoplethysmograms (PPGs) were developed to read a user's heart rate using optical techniques. Industry players caught up with the technology rapidly, and even basic wearables today include 4–5 sensors. Given the past trends, any new technology developed by the main players are most likely to be featured soon after in basic wearables.
Source: PMID: 29567635, US National Library of Medicine, National Institute of Health
---
 Are Wearables Losing Growth Momentum?
 Wearable shipments grew only 8.6% YoY in 2018 according to the IDC estimates (based on the 17th December 2018 update), the slowest rate historically. One of the key reasons for the slowdown is losing of growth momentum in the basic wearables market, according to IDC. Based on the data from IDC, we estimates the smart wearables grew by 44.6% YoY, despite the 5.9% YoY decline in the basic wearables. This indicates the simple value proposition of basic wearables', despite their lower prices versus smart wearables', is not adequate to attract consumers.
Wearables Industry Growth Slows, Shows Signs of Maturing
 Reacting to the current slowdown, IDC has continued to cut its outlook on wearable shipments. It restated its outlook for 2022E as 189.9 million shipments in December 2018 (data as of 17th December 2018) versus 219.4 million back in March 2018. IDC expects only a 0.3% CAGR for 2018–22E for basic wearables; in contrast, it expects the smartwatch market to grow at a 13.3% CAGR over the same period.
IDC Cuts 2022E Forecast for Shipments by over 15% in 2018
 Case Study: Fitbit Loses Value by Sitting in the Middle…
 Within the wearable industry, Fitbit forms an interesting case study where the company has lost is market capitalization from USD 11.6 billion in July 2015 to USD 1.2 billion by December 2018, despite being one of the early success stories in the market. Fitbit's loss of market value is closely correlated to it's market share within the wearable industry (its market share down from 45% in 2Q 2014 to 11% by 3Q 2018). This loss of market share in our view is driven by the fact Fitbit sits on the middle of the in-terms pricing and features.
Fitbit has Continued to Lose Market Share After Entrance of Xiaomi and Apple; Investor Sentiment Poor
Source: Yahoo Finance, IDC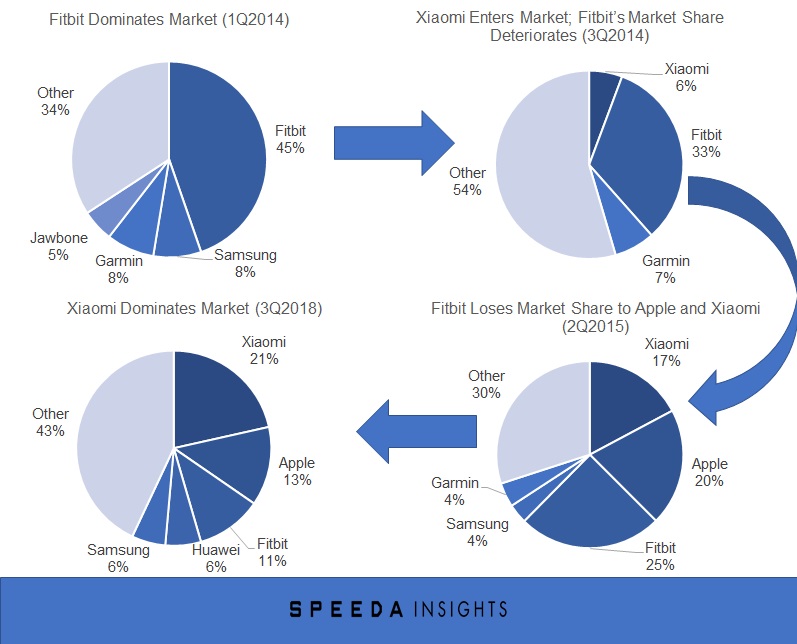 Close to 65% of Fitbit's sales in 2017 was generated from North America. According to IDC, mature markets as North America, Japan and Western Europe saw a 6.3% YoY drop in shipments in 2Q 2018. The expectation and the purchasing power of the users of these markets had drastic differences compared to the emerging markets, and Fitbits offerings hasn't proven enough in this environment in-light of Apple's strong presence. On the other hand, Fitbit doesn't have significant presence in emerging regions as Asia/ Pacific (ex. Japan), Central & Eastern Europe, Middle East & Africa and Latin America. Based on the data from IDC, these regions saw close to a 14% YoY growth in 2Q 2018. The users of these markets, who are mostly first-time users settled for low-cost, standard features. Xiaomi being more in the range of a low-cost (Xiaomi's average unit price: USD 35 compared to Fitbit's: USD 105) basic wearable, found success in China, where close to 61% of shipment in 3Q 2018 were generated from the region.
Apple and Xiaomi Dominates Mature and Emerging Markets Respectively
 The company has struggled financially and recorded losses in 2016 and 2017, mainly due to increased expenses for R&D and marketing. In comparison to Huami (sole partner design, manufacturing partner of Xiaomi wearables), Fitbit's R&D and marketing expenses stood at 14.8% (2017: 21.2%) and 22.6% (2017: 25.7%) respectively in 2016, compared with 8.5% and 6.6% of the former. Huami with manufacturing based in Shenzhen, benefited from the (above mentioned) shared ecosystem specially when it came to manufacturing and R&D compared to Fitbit. In January 2017, Fitbit announced cost-efficiency measures for these two expenses in order to optimise its spend.
---
Catalysts for Future Growth
 Continuous Innovation and Data Accuracy Key to Wearables' Future
 The wearables industry is young, currently evolving away from basic technology such as activity trackers — an area where early entrants such as Fitbit and Jawbone had succeeded. The industry is under pressure to develop new technologies to enhance user experience. According to Signals Analytics (a cloud-based data platform), most players are developing technologies to upgrade their wearables to feature capabilities for EEG and EMG and the monitoring of stress levels, rapid eye movement, emotions, glucose levels, and VO2 max.
Most Technologies Applied in Wearables Are in Early Stages of Development
Source: Signals Analytics
 The Apples Series 4 Watch includes an FDA-cleared Electrocardiogram (EKG) feature, a newly introduced technology for more accurately determining the heart rate. Similar to Apple, Fitbit and Garmin are developing features that can help detect atrial fibrillation (irregular heartbeat that can lead to blood clots, heart failure, and other related complications), sleep apnoea, and other conditions. Further, in January 2018, Fitbit invested USD 6 million in glucose monitoring start-up Sano, which is developing a device for non-invasive tracking of blood sugar.
 The healthcare industry is a potential new market for smart wearable devices; current R&D efforts by the main players signal a possible market entrance in the near term. However, compared with existing medical wearables devices, smart wearables lack recognition as reliable and accurate data collection devices. A 2017 study by Stanford University involving 60 participants revealed that smart wearables showed high accuracy in measuring a user's heart rate, but performed poorly when measuring a user's energy expenditure (the amount of calories they burn). The study covered top brands; Apple Watch, Basis Peak, Fitbit Surge, Microsoft Band, Mio Alpha 2, PulseOn, and Samsung Gear2; six out of the seven devices showed a median error rate of less than 5% when recording heart rate, but median error rates of 27–93% when measuring energy expenditure.
 According to Deloittes the wearables external medical devices market, is estimated to grow to USD 16.3 billion at a 31.7% CAGR 2017-22E (note: the wearable external medical devices is a broader category defined by the consultancy company; and includes insulin pumps for diabetes monitoring, skin patches, cardioverter-defibrillators and smartwatches and activity trackers etc). According to Deloittes, markets as home health monitoring for instance are potential markets with substantial growth for smart and basic wearables both. Given that players such as Apple, Fitbit, and Garmin are already established consumer brands, they may be able to leverage their brand recognition when entering the wearable medical devices market.
---
 Integration and Service Focus will be Important in Increasing User Engagement
 In a backdrop of weak hardware sales, the creation of service models for wearables is a key focus point for growth. Attractive service models that reward users should help device manufacturers maintain frequent user engagement. According to a survey by Gartner (2016), the abandonment rate for smartwatches and fitness trackers are close to 29% and 30% respectively. Respondents claimed either that they did not find the devices useful anymore, they became bored of them, or the devices broke down. The survey also discovered that people below 45 years of age did not plan to purchase a smart wearable, perceiving the devices to be too expensive; in effect, the devices have not provided compelling value propositions.
 Basic wearables lag far behind their counterparts in terms of user engagement: despite being more affordable, their close systems make them incompatible with third-party applications. According to Dr. Indra Joshi, Clinical Lead for NHS England's digital experience programme, although industry players have pushed to create high-cost health IT systems, there has been little focus on building APIs or on allowing smaller digital health players to integrate clinically effective tools into larger electronic health records and IT systems.
 The insurance industry was amongst the first to make use of wearables: they did so by compensating their policyholders for keeping themselves active. In the USA, Aetna subsidises the cost of policyholders' Apple Watches. In the UK, health insurer Vitality subsidises them for policyholders who undertake a certain amount of exercise. Other health and wellness companies offer reward points or cash for meeting certain milestones in regular step counts or gym visits, for example. Although these initiatives have faced some drawbacks, the approach has provided a fresh outlook for the wearables industry.