India: Digital India – Road to Boosting GDP by USD 1 Trillion
"Around 400 million people in the last year got a smartphone. If you think that's a big deal, imagine the impact on that person in the developing world". Eric Schmidt, Davos 2015
 The impact that Eric Schmidt refers to above is what we would like to try and highlight in this series on the digital infrastructure in India. Digital India is a campaign by the Government of India to ensure that services are made available electronically to all the people in the country. The Government aims to achieve this by improving online infrastructure and increasing internet connectivity in urban as well as rural areas. The campaign launched on 2nd July 2015 consists of three core components:
 ・Creation of digital infrastructure
 ・Delivery of services digitally
 ・Digital literacy
 Digital India intertwines together a number of ideas and thoughts into a single, comprehensive vision that can be implemented as part of a larger goal of digital literacy. The Department of Electronics and Information Technology (DeitY) has been tasked with coordinating the overall implementation of the programme which aims to provide the much needed thrust to the nine pillars of growth.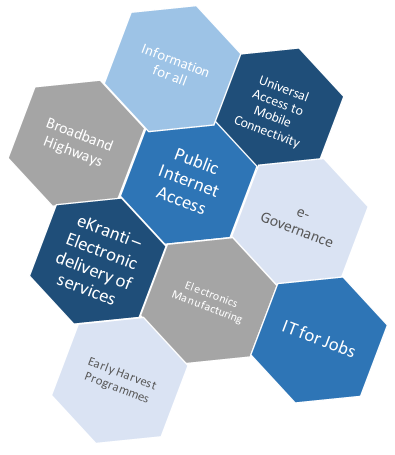 Source: digitalindia.gov.in
 Pillars That Will Power to Empower
 Digital India is an umbrella programme with numerous repositories that is spread across multiple departments and ministries. Below are some of the more important pillars and our view on the same.
 Broadband Highways
 The NDA government has allocated INR 5 billion to build high speed broadband highways to connect every corner of the country. Under the National Optical Fibre Network project, 250,000 villages are expected to be covered by December 2016. BSNL, RAILTEL and PowerGrid Corporation of India are the PSUs (Public Sector Undertaking) responsible for this INR 200 billion project. A National Information Infrastructure (NII) department has been established with the with the primary purpose of integrating the network and cloud infrastructure in the country to provide high speed connectivity and cloud platform to various government departments up to the panchayat level (GP).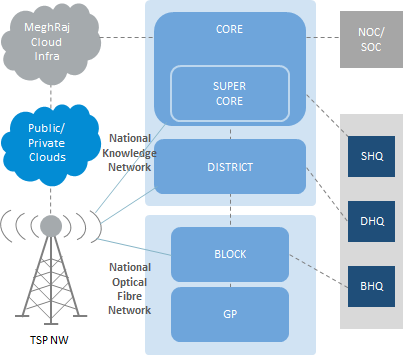 Source: www.igovernment.in
 The components of the NII will include various networks such as State Wide Area Network (SWAN), National Knowledge Network (NKN), National Optical Fibre Network (NOFN), Government User Network (GUN) and the MeghRaj Cloud (GI Cloud). The program will have provision for horizontal connectivity to 100, 50, 20 and 5 government offices at state, district, block and panchayat levels respectively. The figure above provides an idea on how the system would be connected.
 National Association of Software and Services Companies (NASSCOM) believes that this is an opportunity for private companies such as system integrators to take advantage of the PPP structure and play a big role in operating and maintaining cloud operations for a certain period of time. Large international companies have faced flak in providing the services mentioned above, thereby throwing the door open to domestic companies to be a part of this project. The cost of the whole project is estimated to be INR 200 billion and will be funded by the Universal Service Obligation Fund (USOF), which is also tasked with designing the bidding process and carrying out tendering. The fund currently has a balance of INR 418 billion.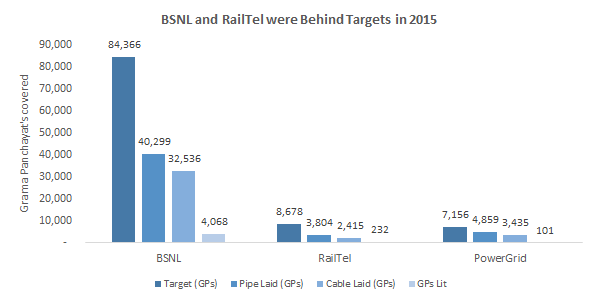 Source: USOF, compiled by Uzabase
 Evidently, the PSUs tasked with laying the pipes and cables were behind their yearly targets at the end of 2015. On a cumulative basis though, the companies have met 72% of the target and should not face any difficulty in completing the remaining 68,000 grama panchayats by the end of 2016.
 Universal Access to Mobile Connectivity
 The government has apportioned INR 160 billion to improve the mobile network penetration in the country. There are still 55,619 villages that do not have mobile coverage. The plan has already been initiated in the North East while the remaining villages in the rest of the country will be provided with internet connectivity in a phased manner. There is no doubt that this pillar is the backbone of the whole campaign. Rural mobile phone users have grown at 128% CAGR from 2011 to 2016. This growth has catapulted India as the second largest smartphone market in the world after China.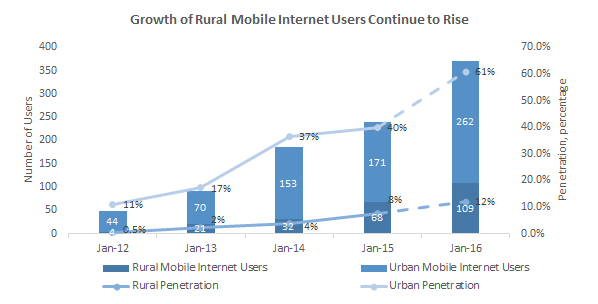 Source: IAMAI, Feb 2016, TRAI projections, compiled by Uzabase (rate for 2016 estimated using the previous year's population)
 Public Internet Access Programme
 The two main components of this pillar are:
 -Common Services Centre (CSC)
 CSC is considered to be the strategic cornerstone of Digital India. These centres are access points for delivery of various electronic services to villages in India, thereby contributing to a digitally and financially inclusive society. CSCs also promote entrepreneurship and improvement of rural livelihoods to promote community participation for the collective engendering of social change.
 -Post Offices as multi service centres
 India has a total of 150,000 post offices of which 90% of them are located in rural areas. On average, each post office serves an area of 21.21 square km and a population of 7175. In addition to its primary service, post offices also provide financial, insurance and retail services. The Gramin Dak Sewak scheme has been allocated INR 49 billion to digitise all post offices by March 2017.
 The plan will include training of postmen in using solar powered handheld devices that will give rural consumers access to financial remittances and saving account through biometric scanning. Telecommunication Consultant of India (TCIL) along with RICOH India will provide the hardware while Infosys will ensure connectivity.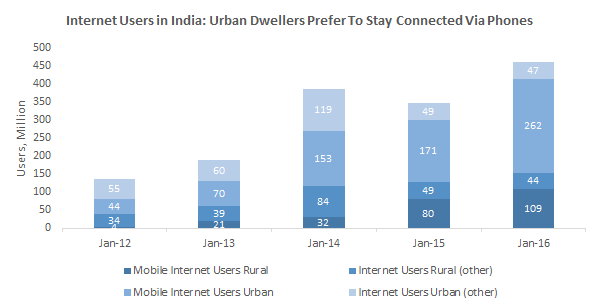 Source: Internet in India 2015 by IAMAI and IMRB International
 As mobile penetration improves, more rural users are switching to smartphones from other mediums. This is certainly an opportunity for smaller smartphone companies to tap the market with low end products which at the same time does not compromise on the applications necessary to use the e-services introduced by the government. App developers have already started making applications tailored to the needs of farmers who make up a large composition of the rural population. Apps like SmartAgri communicates with underground sensors to deliver easy to understand data such as soil moisture and mineral levels to farmers. mPower Social helps cattle owners with simple and quick veterinary advise.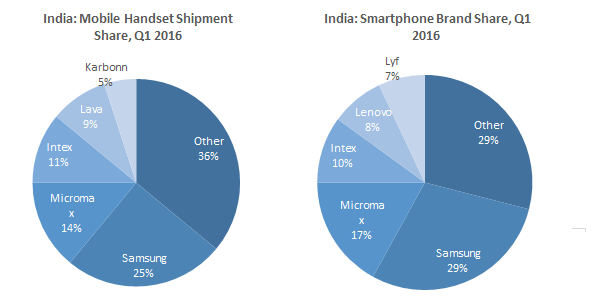 Source: Counterpoint Research
 Domestic companies, together, dominate the shipment and smartphone share as they are produced locally and cost about half the price of a Samsung. Since the government is focused on "Make in India" we can expect their share to rise in the next few years. The phones are likely to be bought directly from producers and distributed at subsidised prices in the rural areas, much like how laptops from HCL were distributed for free to students in Tamil Nadu.
 e-Kranti – Electronic Delivery of Services
 The National e-Governance Plan (NeGP), which was introduced in 2006 has been revamped by the NDA government with the vision of "Transforming e-governance for transforming governance". All new and existing projects will now have to follow the key principles of e-Kranti, which include:
 -Transformation and not translation
 -Integrated services and not individual services
 -Government process re-engineering (GPR) to be mandatory in every mission mode projects
 There are currently 44 mission mode projects under e-Kranti at various stages of implementation. This pillar will also include initiatives to revamp the technology in the below sectors:
 ・Technology for Education – e-education
 Free wifi to be provided in all secondary and higher secondary schools (250,000 schools).
 ・Technology for Health – e-Healthcare
 This would cover online medical consultation, online medicine supply etc. Full coverage is expected to be provided by 2018.
 ・Technology for Farmers
 Farmers will now be able to obtain real time price information and be able to make and receive payments through mobile banking.
 ・Technology for Security
 Emergency and disaster related services will be provided to citizens on real time basis to minimise loss of lives and property.
 ・Technology for Justice
 E-Courts, e-Police, e-Jails and e-Prosecution are some of the services that will be provided through this initiative.
 Electronics Manufacturing
 This ambitious pillar aims at Net Zero imports of electronics by 2020. At present, India's electronic import accounts for more than 27% of the country's deficit. While the below chart may question the rhetoric, a reverse in the trend is clearly evident from the latest data available. India's electronic imports contracted in January 2016 for the first time in 2 years. At the same time, exports increased 7.8% to USD 0.5 billion during the same period. Television and communication equipment production, which form a part of the Index of Industrial Production (IIP) grew by an impressive 82% in December 2015.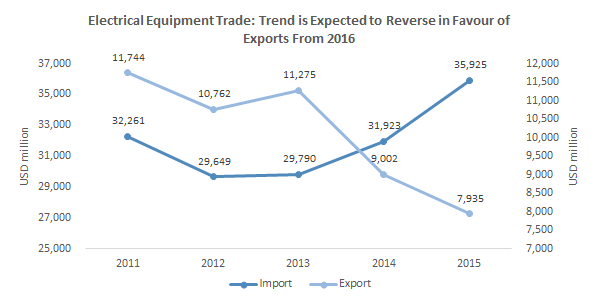 Source: UNComtrade
 As per estimates by Deloitte Touche Tohmatsu India, India's electronics demand is expected to rise to USD 400 billion by 2020. At the current rate, domestic production will account for only USD 104 billion, leaving a gap of USD 296 billion to be filled through imports. This is an opportunity for manufacturers to set up shop in India to cater to the domestic and international masses. Companies like Lenovo, Flextronics and Xiaomi have already opened assembly and manufacturing units in country. This has ensured that at least one in two smartphones sold in India are manufactured domestically. Some of the schemes under this pillar that are drawing investors include:
Modified Special Incentive Package Scheme (MSIPs) subsidy of 25% of CAPEX is reimbursed.
Electronic Manufacturing Cluster Scheme provides 50% of the cost for development in greenfield clusters and 75% in brownfield. The government is targeting 170 additional clusters by 2020 from the 30 currently.
Preference to domestically manufactured goods in government procurement.
Government to provide 75% to 100% of the training cost for industry specific skills for workers.
 Some of the big ticket items that the government seeks to focus on includes FABS, fab-less design, set top boxes, VSAT, mobiles, consumer and medical electronics, smart cards and micro-ATMs. All of these products are core to creating a Digital India.
 IT for Jobs
 The Indian IT sector is one of the largest employers in the country, directly employing 3.5 million professionals. NASSCOM expects the IT sector revenue to grow to USD 225 billion by 2020 from USD 119.1 billion in 2015.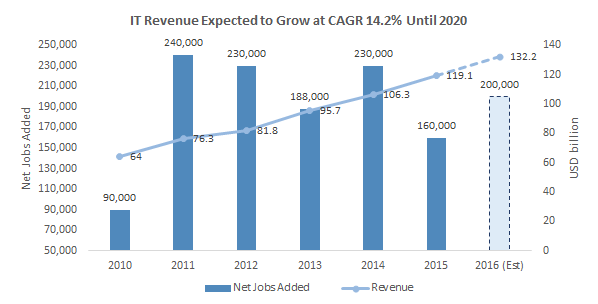 Source: Statista, NASSCOM
 Most of the IT jobs are currently in big cities like Bangalore, Chennai, Hyderabad and Mumbai. Under this scheme, the government aims to incentivise BPO establishments in the North Eastern Region of India. The North East BPO Promotion Scheme (NEBPS) takes into consideration the recurring manpower cost to BPO companies in the above mentioned Tier I cities and has suggested that it would be prudent for these companies to migrate to smaller cities in the North East. The key concerns of companies in moving are the lack of reliable internet connectivity and power supply in these regions, which the government hopes to address in the next few years. Manpower cost is a key determinant in the BPO sector as countries like the Philippines continue to poach companies from India by offering lower salaries to help reduce operating costs. Apart from the cost factor, a survey conducted in 2009 concluded that nearly 60-65% of the literate youth in North East India are below the age of 30. This will serve as the backbone of the IT industry in North East India.
 Impact of Redefining the Paradigms of Service Delivery
 By extending the campaign to every corner of the country, the government expects to reap huge rewards in different sectors.
 Economic Impact
 According to a report by Mckinsey, the Digital India campaign is expected to boost India's GDP by USD 550 billion to USD 1 trillion by 2025. The nine pillars are bound to expedite GDP growth, employment, productivity and plug revenue leakages. Taking the IT sector as an example, at present the revenue per employee is about USD 37,771. Keeping this amount constant the number of direct employees needed to achieve the target revenue of USD 225 billion by 2020 is around 6-6.5 million, which is double the current number. As per a WorldBank report, a 10% increase in mobile and broadband penetration is expected to increase the GDP per capita by 0.81% and 1.38% respectively in developing countries. To break this down, out of the total population of 1.25 billion, 69% (860 million) live in rural areas. We have established in the chart above that the total number of internet users in rural India is 153 million, leaving 83% of the market untapped. The median of mobile and internet penetration rate in rural India for the past 5 years has been 38%. But with the new campaign we think it is safe to assume that the rate will increase to 50%, which is what have used in our chart below.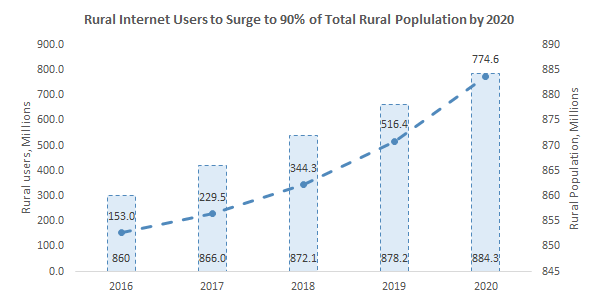 Source: compiled by Uzabase
 Theoretically, the above penetration rate would represent an increase in GDP by USD 4.8 trillion, though a highly optimistic figure, it does represent the country's potential if it is able to overcome the issues that plague it at a fundamental level. With tele-density in urban areas saturated, the future growth of telecommunications is expected to come from those represented in the above chart.
 Social Impact
 In 2012, the digital literacy rate in India was a meagre 6.5%. The Modi government aims to achieve 100% literacy by 2021. Again, as ambitious as it may seem, it may not be completely impossible. The poor literacy rate is primarily due to the lack of physical infrastructure. With schemes like broadband highways, public internet access and universal access to mobile connectivity the physical infrastructure is expected to be in place before 2020. Once this is addressed, mobile and internet banking can improve financial inclusion and create win-win situations for all players. Internet operators will see their revenue rise with an expanding subscriber base and banks are able to service new customers at low operating costs. Developers have already begun filling in the technology gap in agriculture by creating applications that inform a farmer on everything from soil density to weather estimates. Farmers are now privy to real time market data that helps them decide on how to sell, when to sell and where to sell. The plight of hospitals and clinics in rural India was well highlighted in the book Poor Economics. Though the authors broke down the issue to identify the reasons why nurses never turned up to work or why people preferred to go to private clinics hundreds of miles away, they never looked at it from a technology standpoint. The e-Healthcare scheme will now ensure that people can gain medical expertise from their homes. Applications like Superdoc, VISIT and Inguin have already serviced thousands of patients in rural areas.
 Environmental Impact
 India is the world's third largest carbon emitter, behind the US and China. Along with various campaigns including Digital India, India hopes to reduce carbon emissions relative to its GDP by 33%-35% by 2030. Cloud computing helps minimise carbon emission by decreasing energy consumption. Energy consumption is expected to decrease by 28% from 201.8 Twh to 139.8 Twh by 2020 with the adoption of cloud computing technology. Using technology, employees now have the opportunity to work remotely from their homes rather than commute to work. A study in the US found that nearly 50% of Americans have telecommute-compatible jobs. If these people were to work from home at least 2.5 days a week, it would reduce carbon emissions by 54 million metric tons. This is the equivalent of taking 10 million cars off the road.
 Challenges to Implementing Digital India
 On paper the scheme does look attractive but the truth is there is still a number of obstacles that the government needs to overcome to ensure the success of the programme. Though the National Optical Fibre Network project was introduced in 2006, it remains stagnant with only about 15 million wire line broadband users. While at the same time mobile broadband has expanded to nearly 85 million users. The primary reason for this is the availability of content. Mobile applications like Facebook and Whatsapp have spurred the demand for mobile technology. At the moment, the government does not hold any expertise at manufacturing content and so the networks laid out by them are nothing more than empty pipes. New content and service partnerships with the government will ensure the efficient use of these resources.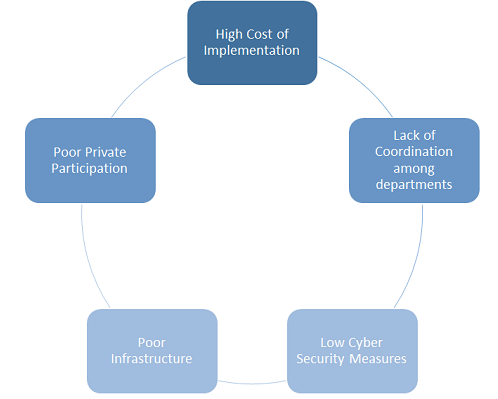 Source: Compiled by Uzabase
 A phenomenon called "call drops" now plagues the second largest mobile user market in the world. Call drop is a service provider's incapability to maintain a call. This mostly results from the lack of infrastructure in the form of telecom towers. If the service providers are unable to maintain a call for more than 15 seconds in urban areas, it will indeed be interesting to see how they can support the government in digitalisation. Considering the whole campaign is an umbrella project involving several repositories, there is a call for improved coordination between different departments spread across the country. Not surprisingly, private participation in the campaign has been poor because players are wary of the long and complex regulatory processes that come with every government project.
 India at the Inflection Point
 Sectors in Need of Disruption
 Regardless of the challenges that lie ahead, India has certainly reached an inflection point in technology adoption with social, mobile, cloud and analytics driving disruption in the country.  According to Cisco, India will add, on average, 5 million internet users and 8.3 million networked devices every month, taking the country to the next phase of the web – Internet of Everything (IoE) which is the intelligent connection of people, processes and data. If a typical bank becomes digitised along with its customers, the upside for the bank could be a 5.6% increase in bottom-line. This translates to an annual profit of USD 392 million for a bank with USD 10 billion in annual revenue. More importantly, as the country digitises there will tremendous opportunity for entrepreneurs, industries and communities. A common trait of an inflection point is disruption. Disruption in certain sectors in India is inevitable and we think the following three will witness the biggest changes:
 Retail
 Indian retail industry accounts for over 10% of the country's GDP and 8% of total employment. According to a BCG report, the Indian retail sector is posed to double by 2020 to USD 1.3 trillion from USD 600 billion in 2015. The disruption in the industry involves retailers working with a dual mandate to drive not just efficiencies but also greater innovation to stay above the competitors. Growth in IT expenditure in retail in the past 5 years averaged 26%. Using the same figure, IT spending in retail is set to go past USD 10 billion by 2020. This would represent 12.5% of total Indian IT enterprise spending.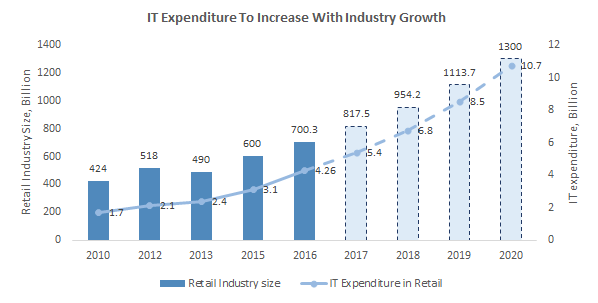 Source: BCG Retail 2020, E&Y, Deloitte, IBEF, Gartner, compiled by Uzabase
 Some of the technologies gaining traction in retail include:
 – Omni-Channel Platform
 These platforms provide retailers with basic information regarding customer behaviour and preferences and help create relevant local retail information and organisational structures to support an omni-channel strategy. For example, Shoppers Stop, the Indian retail giant, has invested heavily in warehouse management and master data management to enable multi-channel commerce.
 – Big Data/Analytics
 A survey by The Economist Intelligence Unit concluded that 78% of respondents have seen a positive economic return from investments in data analysis. In India, Trent, the retail arm of the Tata Group is the first such company to build an in-house analytics team to understand customers better.
 – Mobility
 Mobile adoption leads the pack. Mobile applications launched by retailers are giving retailers with websites a run for their money. Retailers are also using this technology to improve the payment processes by making them more agile with mobile PoS, mobile wallet, mobile money to money transfers etc. It is obvious the services above are now widely used by the urban population, but with the spread of broadband into rural areas, we can certainly expect a paradigm shift in retail services.
 Insurance
 A popular insurance advertisement running on Indian televisions is that of a mother advising her son and his work colleagues to be more cautious when buying insurance. She suggests that they use a particular application to compare offerings from different companies and the amount they will have to pay in premium. This will make obsolete the age old practise of insurance agents knocking on doors and selling insurance. The insurance sector faces one of the toughest tasks in adopting to digital technology. As the digital age catches up in India, similar trends from around the world will also come into play:
71% of consumers use digital research before buying insurance.
26% of consumers buy their insurance policies online.
50% would hand over personal data to their insurer to find the best deal.
 Insurance companies in India have now started to adapt to the digital world by using social media for brand building, mobile applications to help customers connect to agents and in-vehicle telematics to asses driver risk.
 Banking
 Banking in India has traditionally been a conventional sector. However with changes in consumer demographics and behaviour, banks are forced to change the way services are offered and consumed. As internet and mobile penetration grows in India, tremendous opportunities are being created for banks to offer cutting edge services. There is a two-fold advantage to using technology, one, it helps to reach customers where they are and two, it allows banks to save on physical infrastructure. In the past 4 years, European banks have closed around 20,000 branches. But by transforming services to the digital realm banks have benefitted by being able to service 250,000 customers using 1 branch from 20,000 customers previously. The Pradhan Mantri Jan Dhan Yojana programme, under which 130 million bank accounts were opened is a good example of where digital disruption would favour financial inclusion. Instead of opening branches to service these customers, the bank can reach out to them directly on their internet enabled mobile phones.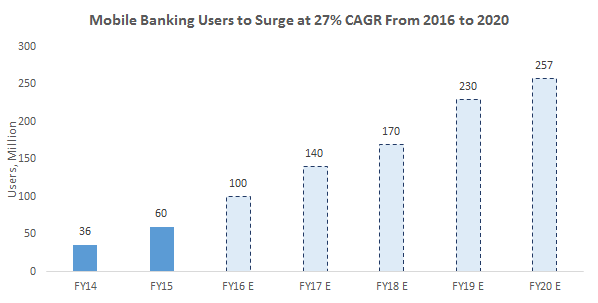 Source:www.financialexpress.com
 An example of digitalisation among Indian banks is the State Bank of India (SBI) InTouch. The InTouch service includes automated kiosks that deliver instant services such as account opening and facilities that offer remote expert advisory through high definition video. Backend systems collect data and analyse them in real time to enable the bank to improve their services to the new age customer. Once the infrastructure is in place such services will definitely ensure that most of the 130 million accounts opened will not remain dormant. In order to ensure that these disruptions take place successfully private participation is imperative. As stated earlier, the government need content and service manufacturers to put the former's resources into efficient use.
 Drawing Out The e-Entrepreneurs
 Start-up India to Drive Disruptions in the Digital Economy
 Launched in January 2016, the 'Start-up India, Stand-up India' initiative seeks to help boost digital entrepreneurship and job creation through start-up ventures in India. The government seeks to create an empowering environment by providing incentives and improving the ease of doing business. The initiative will provide three year income tax exemptions, concessions on capital gains tax to start-up ventures, improve the regulatory environment and waive patent filing fees. Through the Department of Industrial Policy and Promotion (DIPP), the government has established the 'Start-up India Action Plan'. The plan proposes to create a 'Fund of Funds' worth INR 100 billion (USD 1.5 billion) to fund new ventures. The fund will recur every 4 years with INR 25 billion being paid out every year.
 Similar to the 'Make in India' initiative, the start-up initiative will also feature a Start-up India Hub which will act as a single point of contact for interaction between the government and budding entrepreneurs. It also includes the establishment of the Atal Innovation Mission for the promotion of R&D including 500 tinkering labs, 35 public-private sector incubators, 31 innovation centres at national institutes, 7 new research parks and 5 new bio clusters. As of 2015, India had a total of 4200 tech start-ups, making it the third largest market in the world.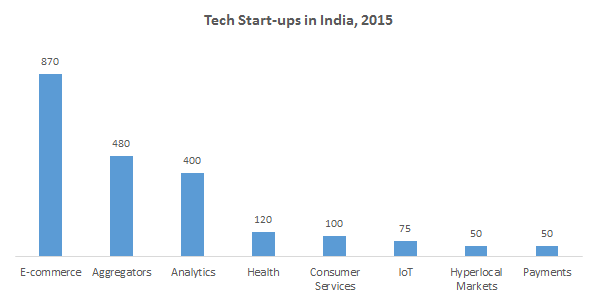 Source: Nasscom & Zinnov
 As evident, large number of entrepreneurs are vested in e-commerce platforms. In order to heed to the needs of Digital India campaign, the country would need additional start-ups in the payment and health sectors.
 Investor Confidence Rises With New Government
 According to data from YourStory, a business media content provider that covers start-ups, capital worth $11 billion was invested in Indian start-ups in 2015 by PEs alone. A NASSCOM report highlights that active investors in India have increased from 220 in 2014 to 490 in 2015.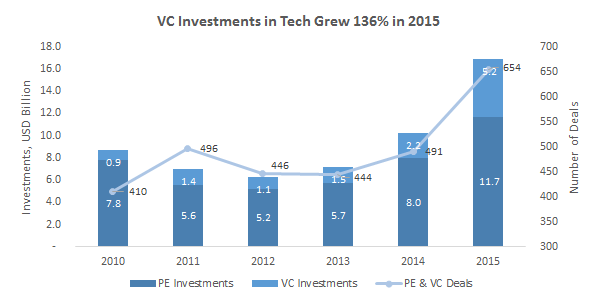 Source: VCCEdge
 One primary reason investors have attributed to their interest in India is the tax regime rationalisation. The Goods and Services Tax is expected to unify India into one single economy unlike the current taxation system that creates borders within borders and is therefore unable to provide tax credits for interstate transactions, leading to distortion in the allocation of resources. Investors looking for the next opening will not be influenced by tax benefits but rather by core business efficiency. Within the start-up space, GST will bring uniformity in process and centralised registration that will make starting and expanding a business much simpler.
 A different kind of investor making their presence felt in the market are angel investors, both foreign and domestic. Media coverage of start-ups in India have grown steadily enough to give these companies international exposure. The Indian Angel Network (IAN) estimates that nearly 20% of the investors on its platform are bas overseas. It is no surprise that angel investment deals saw a rise of 80.5% in 2015 to 632 from 350 in 2014.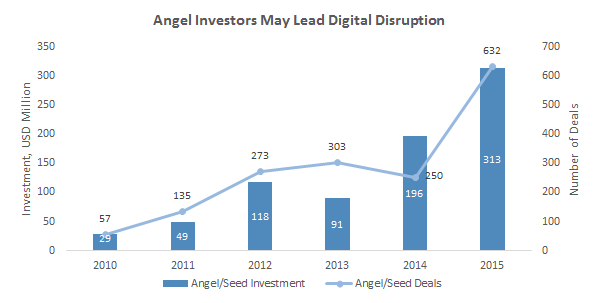 Source: VCCEdge
 According to the report "Expert Committee on Innovation and Entrepreneurship", constituted by NITI Aayog, Indian entrepreneurs spend much more effort and time raising funds compared to their American counterparts. The report cites that early stage funding has been the biggest challenge, with angel investments in India being much more limited vis-à-vis the US. The report concluded that investors in India are keener towards later-stage funding, betting large sums of money in companies, which are already generating revenues. Plus, eight out of ten Venture Capital and Private Equity firms are foreign-based. This trend certainly needs to buckle as most of new start-ups servicing rural areas are bound to be small scale operations.  Fortunately platforms like IAN (Indian Angel Network) can help curate and vet early stage start-ups for investments by angel investors. With the likely increase in start-ups in tech in the next few years, platforms such as IAN will play a pivotal role in providing exposure to these nascent companies that hope to make a change.