The Internet of Things: Taking the Technology and Communication Space by Storm
 The Internet of Things (IoT) is an ever-growing platform in the technological space spanning various industries globally. The IoT is a network of interconnected devices that enables them to collect and exchange data. Moreover, Gartner states that the number of connected devices was estimated to be about 1.2 per person in 2016 and is forecast to be well over 3 per person by 2020E. Nevertheless, for IoT to reach its maximum potential, many more technological developments must evolve further (e.g. complex cloud services, broadband/internet platforms – 5G, and stringent regulatory security implementations).
 According to forecasts by Statista, IoT revenue could nearly double between 2014 and 2017E (reaching USD 1 trillion by 2017E) and also reach USD 2 trillion by 2019E. Estimates by McKinsey suggest this figure could approach USD 4 trillion by 2025E. Platform and application solution providers are estimated to have the highest potential (over 50% of total value creation), benefitting from a variety of industries.
 Interoperability among Systems a Key Success Factor
 The full realisation of IoT's potential depends largely on interoperability among IoT systems. According to studies by McKinsey, circumstances in which two or more IoT systems must work together could account for about 40% of the total IoT value to be gained. The main benefits of interoperability are said to be realised in worksite settings, where the percentage of total value requiring interoperability approaches 60%, as per McKinsey. Without the necessary interoperability among systems, IoT value would be about 30% lower than its highest potential in 2025E.
 Developed Economies to Gain Initial Benefits owing to Higher Spend compared with Developing Economies'
 Industry experts state that developed economies will benefit at first from IoT, compared with developing economies, due to developed economies' higher spending in healthcare, home, and retail settings. However, the potential number of IoT uses is likely to be higher in developing economies. According to McKinsey, 62% of the potential annual economic impact of IoT 2025E should stem from advanced economies and the remainder from developing economies.
 Security Risks a Potential Headwind
 Given IoT's growth potential, the biggest challenge in the industry involves security. The risk of data security and privacy breaches with IoT is significant, as almost every connected object and appliance used is linked to each other and in turn to a cloud or database platform. Cyber criminals see IoT's exponential growth as an opportunity, especially as consumer-ready hardware is in most cases relatively easy to hack. Moreover, global antivirus solutions giant Norton Antivirus states that millions of internet-connected devices are vulnerable to attacks from cybercriminals: common devices such as TVs and home security systems can be exploited as botnets, for the circulation of ransomware, and for other types of fraud.
 US Market Maturity and Government Support Should Ease IoT Transition
 In relation to the US market (third-largest IoT installed base of 3 billion units in 2013, increasing to 7.5 billion units by 2020E, as per IDC), where the penetration of connected devices is high, industry experts suggest it would be comparatively easy for the USA to transition into the IoT boom than for developing countries, given the USA's lower incremental costs than developing countries'. Moreover, in the USA, the industry is supported by continuous government spending on IoT development, especially in the defence and military industry. Current regulations in several industries could benefit players along the value chain. Further benefits could arise via bills that promote IoT usage through provisions that encourage lawmakers to nurture connected technology.
Understanding IoT: Sound Ecosystems and Applications Lay Foundation for Strong Growth over the Medium to Long Term
 According  to Ernst and Young (E&Y), the 'Internet of Things' (IoT) is described as the connection of devices to the internet, using embedded software and sensors to communicate, collect, and exchange data with one another at home, work, or play. Various devices and appliances, including thermostats, cars, lights, and refrigerators, can be connected to the IoT. The IoT ecosystem enables an entity to connect to and control a device that has a 'remote' by sending a command or a request for information over a network to that device (e.g. a user could check the weather or traffic conditions through a smartphone, tablet, smart fridge etc.). The device responds to the command or sends information back over the network to be analysed and displayed on the remote. The data generated by the IoT device can be analysed and stored in multiple locations, including the cloud, a local database, the remote, or locally on the IoT itself.
IoT Ecosystem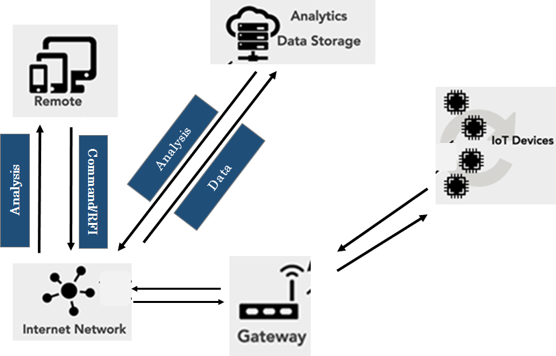 Sources: Business Insider; UZABASE
The Building Blocks of IoT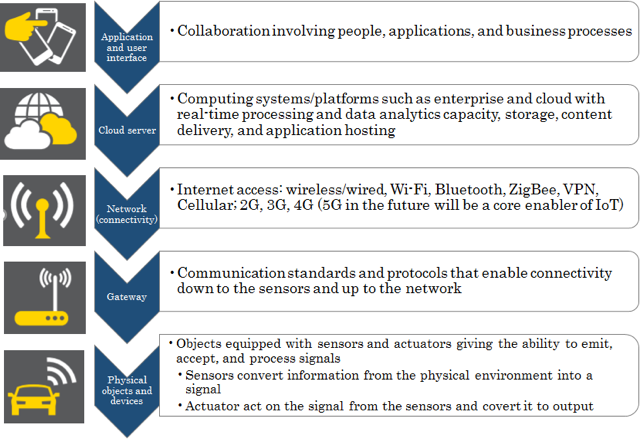 Sources: Ernst & Young; UZABASE
IoT Applications: From Wearables to Smart Cities
| Application and Description | Real-world Examples |
| --- | --- |
| Smart Home: Currently the most popular IoT application, due to its affordability and availability | Amazon Echo: Works through a voice assistant (Alexa) to perform a variety of functions, e.g. play music, give weather reports and sports scores, order an Uber |
| Wearables: Includes smartwatches, which have now developed into smartphone holsters through the enabling of functionalities such as text messaging and phone calls | Fitbit One: Tracks users' steps, floors climbed, calories burned, etc. Wirelessly syncs with computers and smartphones in order to monitor user progress |
| Smart Cities: Involves transforming cities by solving citizens' problems through proper connectivity and data (e.g. heavy traffic, high crime rates, and pollution) | Barcelona, Spain: One of the world's foremost smart cities, after it implemented several IoT initiatives (i.e. smart parking and pollution monitoring) |
| Connected Cars: Vehicles equipped with internet access and able to share the access with others (similar to connecting to a wireless network in a home or office) | AT&T: Added 1.3 million cars to its network in 2Q2016, bringing the total number of cars it connects to 9.5 million. The company offers customers the option of an unlimited data plan for their vehicles for USD 40 per month |
Source: Business Insider
Enablers of IoT: Rapid Technology Development Key to Maximum Benefit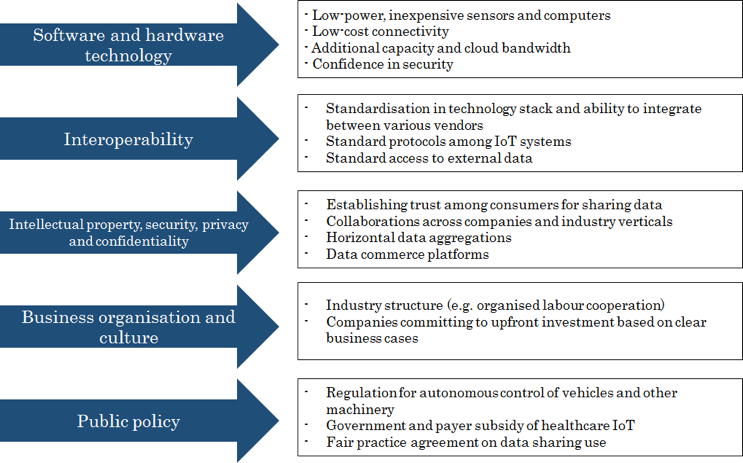 Source: UZABASE
 Market Potential: Currently in Infancy, with Dramatic Growth Anticipated over the Medium to Long Term
 According to McKinsey, the number of connected devices around the world is estimated at more than 9 billion (1.2 devices per person in 2015), including smartphones and computers. According to Gartner, this number should increase dramatically, with estimates ranging to well over 25 billion devices in 2020E (approximately 3 devices per person, as per UN population growth statistics) and to approximately 75 billion by 2025E (as per Statista). Moreover, according to E&Y, global wearable device shipments are estimated at 237.1 million units for 2020E, almost 3x compared with 79.6 million units in 2015. The main cause for the uptick in devices to be used over the next decade is the IoT platform's gain in traction in today's technological space, along with advances in connectivity, cloud services, and IT security. According to Statista, based on economic and demographic trends and the likely evolution of technology over the next decade, IoT revenue could nearly double between 2014 and 2017E, passing the USD 1 trillion mark by 2017E. By 2019E, the global IoT market is forecast to be valued at more than USD 1.7 trillion (CAGR of 27.3% over 2014-19E). Moreover, according to McKinsey, this figure could surpass USD 3.9 trillion in 2025E. These growth forecasts imply significantly faster growth than was seen in the global mobile data services boom (global mobile data services grew to USD 453 billion in 2015 from USD 253 billion in 2010, a CAGR of 12.3% over 2010-15).
Global IoT Connected Devices to Grow 5x During 2015-25E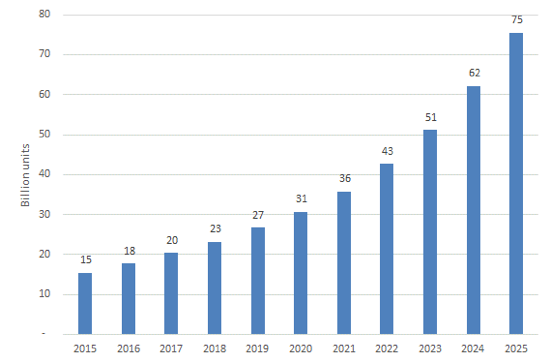 Source: Statista
Note: 2016-25E is the forecast period
IoT Market Size Estimated to Grow at a CAGR of 25% Over 2009-19E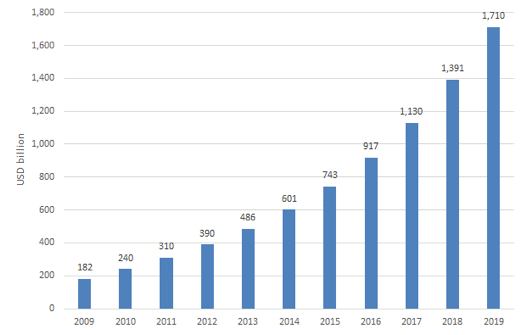 Source: Statista
Note: 2016-25E is the forecast period
The Building Setting to Experience the Highest Growth Due to Processors Involved Along the Value Chain While the Home Setting to Contribute the Highest Due to Higher Number of User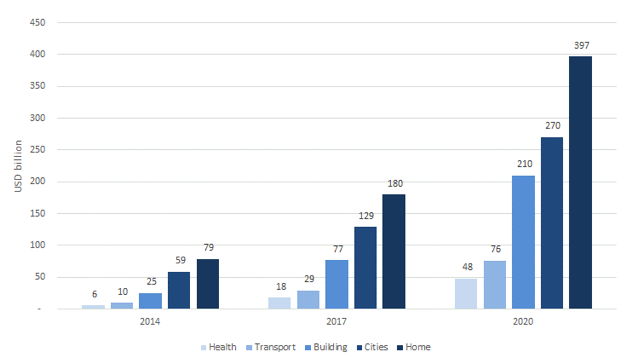 Sources: Postscapes; UZABASE
Note: 2017E and 2020E is forecast periods
Many Different Views on the potential Size of IoT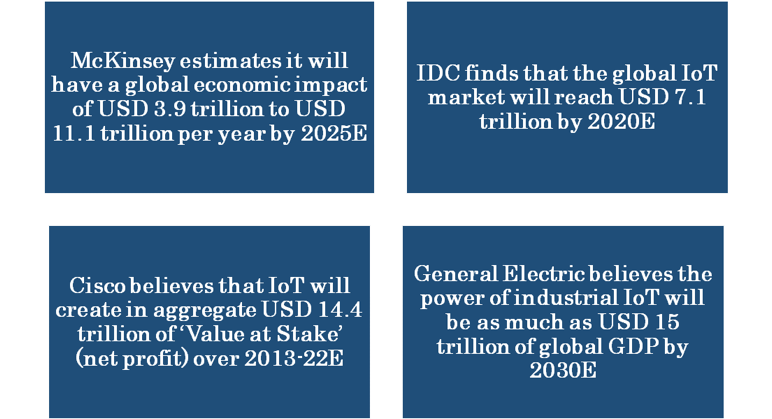 Diverse Mix of Industry Players Involved across IoT Value Chain; Application and Platform Providers to Benefit the Most
 IoT has a highly complex value chain due to its impact on multiple processes. For instance, it could involve IoT chip manufacturers such as Intel as well as device manufactures such as Samsung. It could also involve network providers such as AT&T and Vodafone as well as cloud service companies such as Microsoft.
IoT Value Chain – Diverse Range, from Technological Companies to Sports Equipment Companies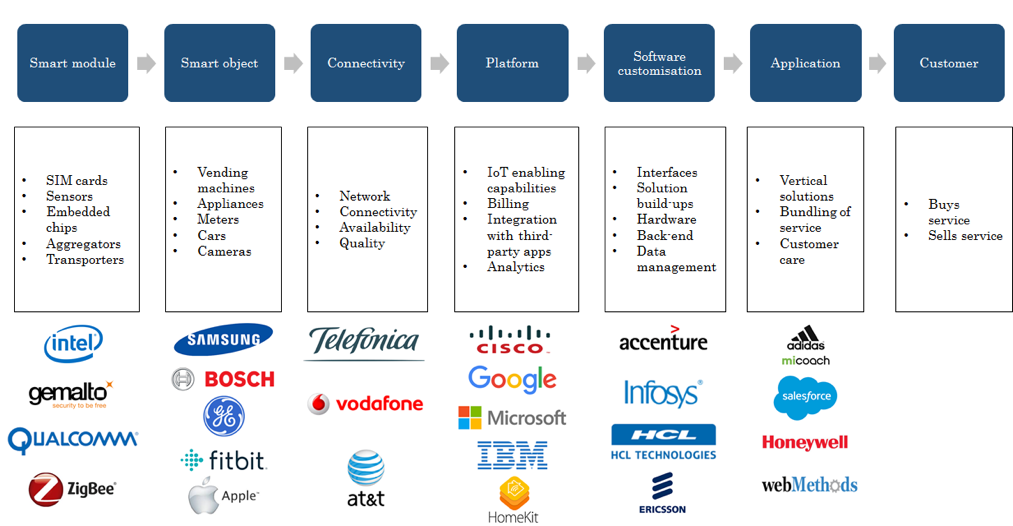 Source: UZABASE
Note: List of players is indicative and not exhaustive
 According to Telecom Circle, an open networking organisation for communications, media, and advertising, platform, connectivity and application providers are projected to be well positioned to capture most of the IoT boom, estimated to be over 50% of the value.
According to Telecom Circle, Connectivity, Platform, and Applications Carry the Greatest Value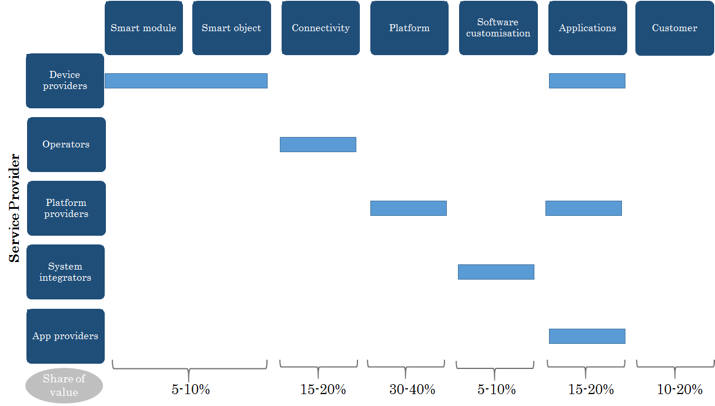 Sources: Telecom Circle; UZABASE
Applications/Platform Component to Contribute Largest Share of Revenue; Share Should Reach 61% by 2025E Globally, as per Industry Experts

Sources: Analysis Mason; UZABASENote: Does not include value for smart modules, objects, software, and customer elements
 Furthermore, according to Analysis Mason, a telecoms, media, and technology management consulting and research firm, global revenue from the value chain for mobile IoT and low power wide area (LPWA) connections are estimated to have a healthy share of the revenue potential of the value chain. Mobile IoT connections are projected to reach 1.3 billion in 2025E (4x higher compared with 317 million in 2016) and LPWA connections 3.4 billion in 2025E (50x higher compared with 64 million in 2016). Mobile operators and other players in the value chain are seeking additional incremental value by offering other components of the value chain, including hardware, devices and applications, given that average connectivity revenue per connection is low.
According to Gartner, IoT Opportunity Expands Well Beyond 'Things'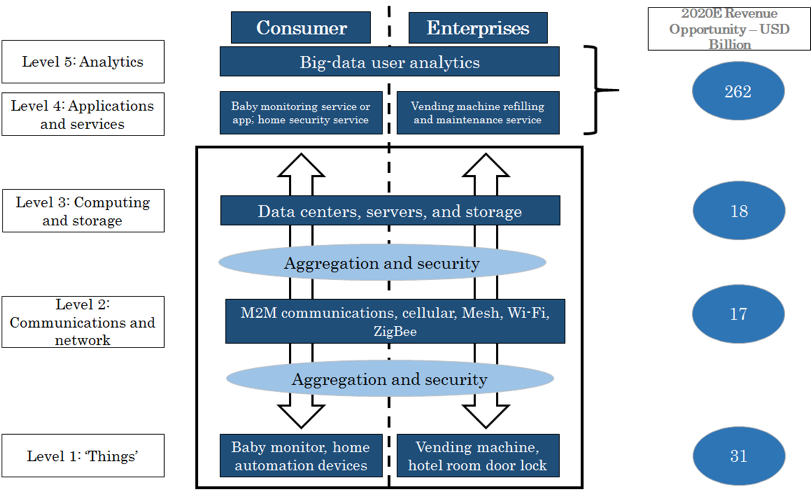 Sources: Gartner; UZABASE
 Bellwether Companies across Multiple Industries, Such as Cloud and Platform Solutions, Taking Necessary Steps to Benefit from Potential IoT Boom
 IoT's growing traction raises interest in the question of who is yet to join the market. Big names such as Samsung, LG, Apple, Google, and Philips are all working on connected devices, as are many smaller companies and start-ups.
Global Technology and Communication Players Have Already Started IoT initiatives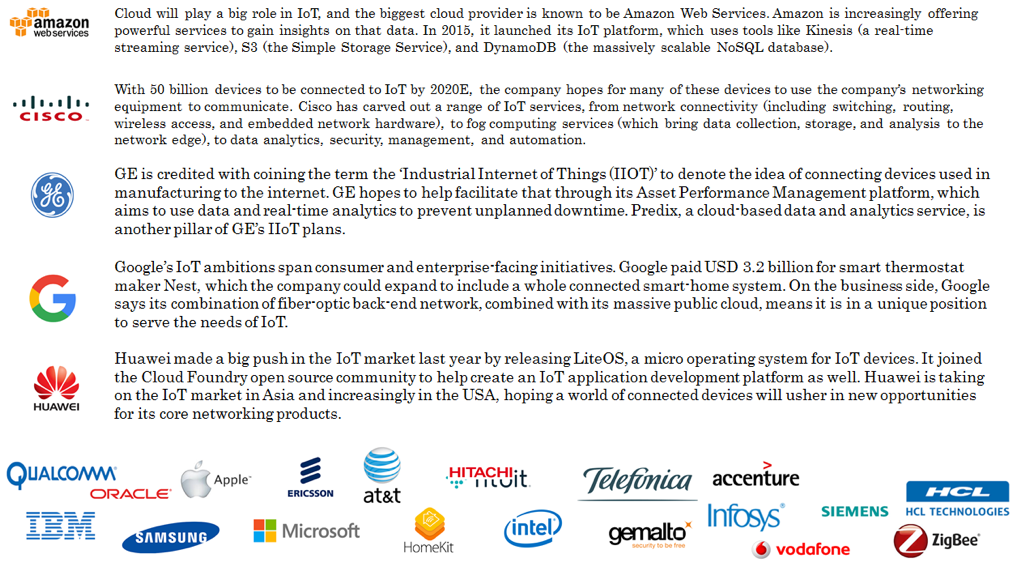 Sources: ComputerWorld UK; UZABASE
Industries to Potentially Benefit from the IoT Revolution and Company Initiatives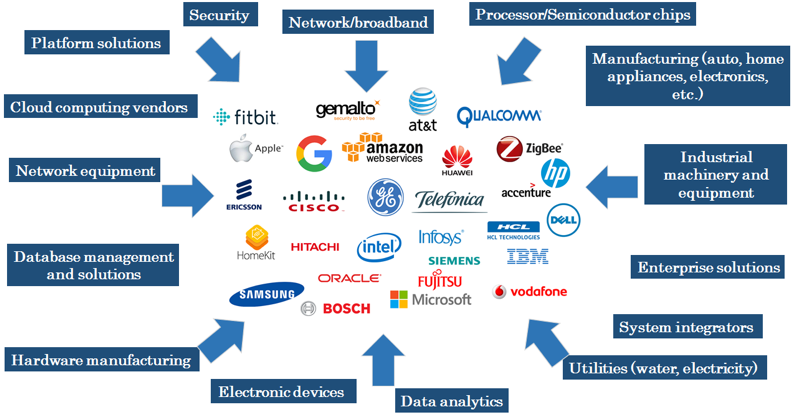 Source: UZABASE
 Interoperability a Key Success Factor; Developing Nations and B2B Industries to Benefit First via Higher Spend and Large Number of Processes Involved
 Interoperability a Critical Source of Value in IoT Systems
 A central finding from the IoT industry is the importance of interoperability in generating maximum value from IoT applications. According to McKinsey, situations in which two or more IoT systems work together could account for about 40% of the total value to be gained from IoT.According to McKinsey's estimation of IoT's maximum potential, without the benefit of interoperability, the maximum value of the applications would be only about USD 7 trillion per year in 2025E, approximately 30% lower than the potential of USD 11.1 trillion if the benefit of interoperability is included. Some of the biggest benefits of interoperability might be realised in the worksites setting, where the percentage of total value requiring interoperability approaches 60%, as per McKinsey reports. This high potential reflects the complexity and interconnectedness of equipment in the worksites setting. For example, there can be 30,000 sensors on an offshore oil rig, where data collected is used for monitoring machines or systems. This data is collected by individual equipment manufacturers' own machines, for use in schedule maintenance. Interoperability should therefore significantly improve performance: sensor data can be combined from different machines and systems to assist in decision-making, with an integrated view of performance across an entire factory or an oil rig. According to a survey conducted by McKinsey, oil and gas experts estimate that interoperability could improve the effectiveness of equipment maintenance in their industry by 100-200%.
Nearly 40% of the USD 11.1 trillion Potential Economic Impact of IoT Requires Interoperability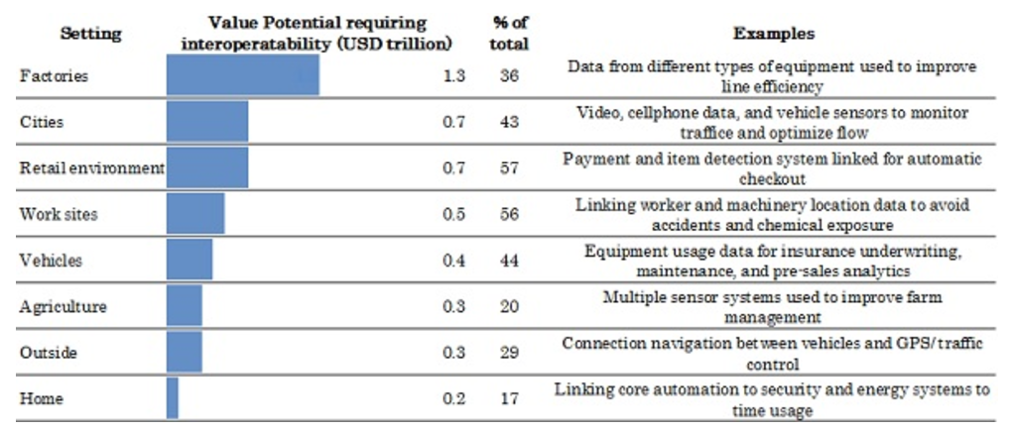 Source: McKinsey
Advanced Economies to Benefit more than Developing Economies in terms of Value; however, Number of Uses to be Higher in the Latter
 According to McKinsey, over the next ten years (2015-25E), the bulk of IoT value is likely to be created in advanced economies, due to the higher value associated with each deployment of new technologies (e.g. 5G) and applications, supported by infrastructure advancements. However, the potential number of IoT uses is likely to be higher in developing economies. The level of value in advanced and developing economies will vary depending on setting, industry, and application. The applications that drive the most value in developing economies differ from those in advanced economies and, in some cases, due to the lack of legacy technologies to displace, developing economies can 'leapfrog' IoT implementations. Nevertheless, McKinsey estimates that 62% of the potential annual economic impact of IoT applications in 2025E will be in advanced economies and 38% in developing economies.
 The higher value in advanced economies reflects higher wage rates and costs, which raise the economic value of increased efficiency. As values in developing markets rise, the economic impact associated with IoT is also estimated to grow. The high volume of estimated installations in developing economies reflects the shift of global economic growth to those areas, with important implications for companies that compete in the IoT equipment and service markets. China will be one of the largest users of IoT systems in factories as well as in other settings (home, cities, etc.). Countries with oil and gas operations (USA, China, and Middle-Eastern countries) — among the most important early adopters of IoT (South Korea and Few European Markets) — will also be major geographic markets.
Developed Nations to Benefit More in Healthcare, Home, and Retail, Owing to Higher Spend, While Value Share is More Balanced in Worksites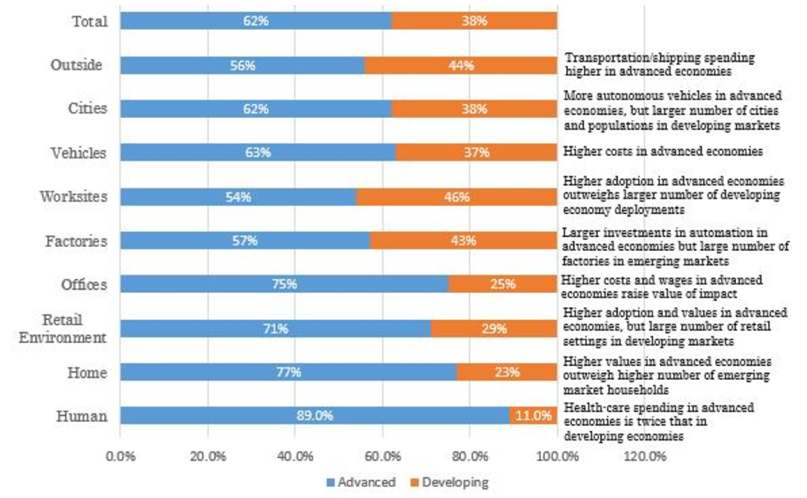 Sources: McKinsey; UZABASE
Korea One of the Earliest Adopters of IoT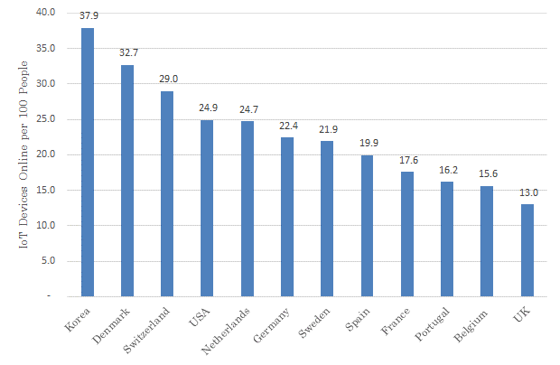 Source: Statista
 Security and Private Data Protectivity a Major Concern; Security Service Providers Could Benefit from Demand for Stronger Security Platforms
 While connected technology provides a variety of new and exciting possibilities, it also brings challenges. The biggest challenge involves security. Any internet-enabled device is vulnerable to hacking. The risk of data security and privacy in relation to IoT is significant, with virtually every connected object and appliance in use linked to each other.
 The IoT industry's exponential expansion, combined with the relative ease of hacking consumer-ready hardware (in most cases), poses an opportunity for cyber criminals. According to Norton Antivirus, millions of internet-connected devices are vulnerable to cybercrime. The company stated that common devices such as smart TVs, home security systems, and baby cameras are all hackable and can be exploited as botnets, for the circulation of ransomware, and for other forms of fraud.
 For instance, in October 2016, it was reported that hackers could hack into FitBit devices through Bluetooth, risking potential malware injections once the devices sync back to computers and mobile devices. Moreover, a Samsung SmartFridge failed to validate SSL (security socket layer) credentials, potentially exposing sensitive information such as Gmail login information to hackers and other systemic vulnerabilities, as discovered by researchers at the University of Michigan.
How Hackers Could Compromise IoT Devices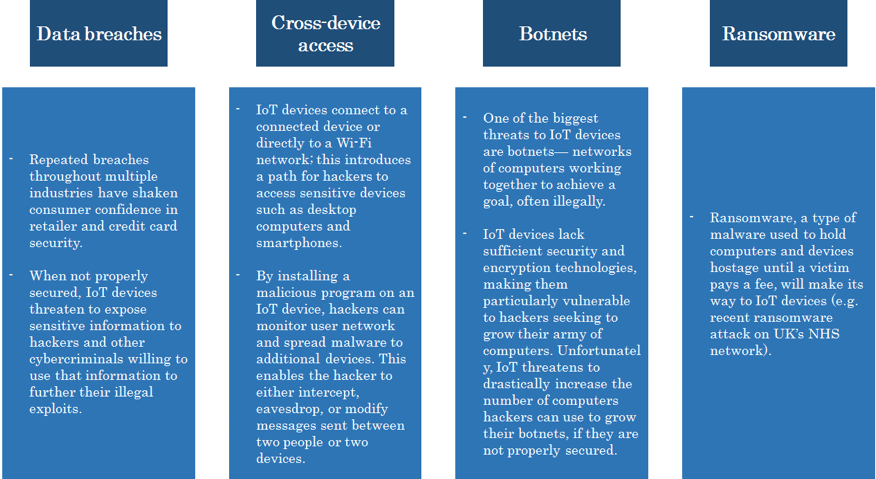 Sources: McAfee; UZABASE
B2B Applications to Have Higher Potential than Consumer Applications
 Consumer use of IoT technology has garnered significant attention, thanks to media coverage of its application, for example in fitness monitors and home automation. While these applications do have significant potential for creating value, industry experts suggest there is even higher value potential from IoT use in business-to-business (B2B) applications. B2B transactions are defined as the exchange of products, services, or information between businesses, rather than between businesses and consumers (B2C). In many instances of worksite applications in industries such as mining, oil and gas, healthcare, and construction, there is no direct impact for consumers. Considerable additional value can be created by linking consumer IoT systems to B2B systems, for example by linking connected consumer healthcare products to services provided by healthcare providers and insurance providers. For example, if healthcare providers could access data from consumer healthcare monitors (e.g. weight, blood pressure, blood sugar), value can be created through its use in making informed decisions about patient therapies. Similarly, more value can be created if IoT data from sensors purchased by consumers for use in their homes or cars could be used to provide personalised insurance, based on actual usage data. There is also potential in linking consumer IoT devices at home to utility company systems in order to improve energy management.
 Globally, the overall volume of B2B transactions is much higher than the volume of B2C transactions, since a typical supply chain involves several B2B transactions. For instance, raw materials are used to manufacture components, which are then combined into finished products that are eventually purchased by a consumer or another business. In order to gauge the impact of IoT on B2B versus B2C activities, the respective applications can be considered in three ways, as follows: 1.    Based on the user: 69% of IoT's potential value is where the primary user or beneficiary is a B2B organisation. 2.    Based on the buyer: 79% of IoT's potential value is where a business is the purchaser of the IoT technology or service. 3.    Based on setting owners: According to McKinsey, over two-thirds of the value of IoT applications in 2025E is to be generated in settings owned by businesses (B2B), such as worksites, factories, and offices.
B2B Settings such as Offices, Factories, and Worksites Estimated to Carry Higher Value

Source: McKinsey
Value of IoT in a Wide Array of Industries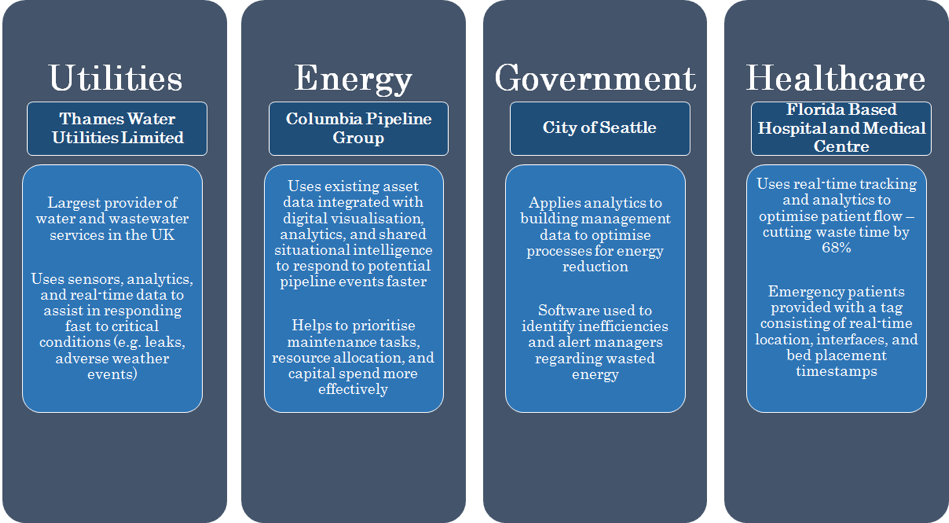 Source: McKinsey
 US Synopsis: Significant Market Potential Underpinned by Government Support; Regulatory Framework Soft for Now
 The penetration of electronic devices in the USA is significantly high and has matured over the years (although less than in Europe and the Asia-Pacific region). Against this backdrop, many industry experts suggest it would be easier for the USA to transition into the IoT boom, with lower incremental costs compared with developing nations'.
High Penetration Levels in the USA will Assist in Transitioning to the IoT Landscape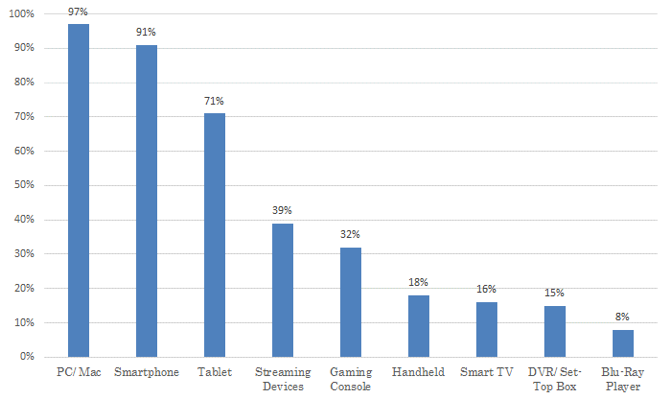 Source: Statista
The USA had the Fifth Largest Number of Connected Devices per Person Behind the Likes of Netherlands and the UK (2014)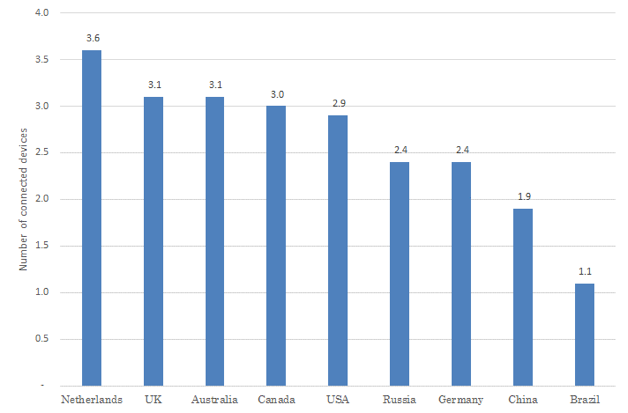 Source: Statista
 As reported by IDC, by 2020E, North America is projected to have an IoT installed base of about 7.5 billion units (compared with 3.1 billion in 2013), the third-largest after the Asia-Pacific region (10.1 billion) and Western Europe (8.3 billion). Moreover, IDC stated that a significant portion of the installed base in North America would originate from the USA (>55-60%).
North American IoT Installed Base is Projected to Grow at a CAGR of 13.5% over 2014-20E, Accounting for 42.7% of Total Installed Base Globally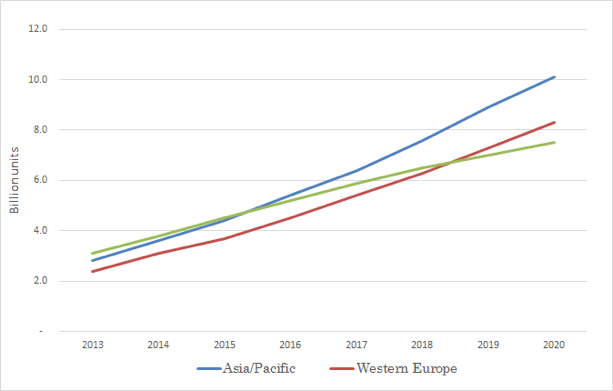 Source: IDC
Note: 2015E-20E is the forecast period
According to IDC, US Revenue from IoT is Forecast to Grow at a CAGR of 16.3% over 2014-20E, Behind Asia Pacific (23.3%) and Western Europe (22.8%)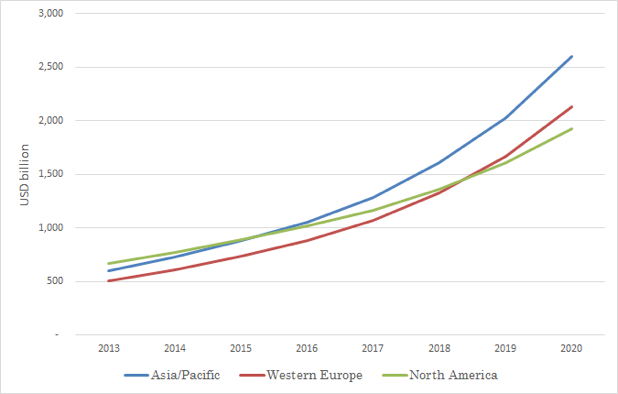 Source: IDC
Note: 2015E-20E is the forecast period
 Moreover, the industry benefits from a series of US federal government investments on IoT in recent years. The federal government spent USD 8.8 billion in 2015 (around 1.1% of the USA's total IT spend), up from USD 7.7 billion in 2014, according to a report from Govini, which collects and analyses data about government contracts. Overall, the federal government spent almost USD 35 billion on IoT solutions from FY2011 through FY2015.
Government's IoT Investments by Category

Source: International Trade Commission, USA
 The category with the most rapid investment growth was sensors, which grew to USD 1.6 billion in FY2015 from USD 578 million in FY2011 (CAGR of 28.9%). This was due largely to military investment in biosensors that gather health and medical information from soldiers in the field, as well as sensors that can collect data about soldiers' surroundings to determine threats. Device-based applications attracted the highest investment: USD 10.7 billion during 2011-15 (about 25% of total investments over the period). Defence-related agencies represented 88% of all government spending on sensors, and most of that spending went to major military contractors such as Raytheon, Lockheed Martin, Northrop Grumman, and BAE Systems. Government spending on IoT solutions should continue to rise and move towards civilian use, such as sensors and connected cars for smart cities.In terms of the USA's regulatory stand on IoT, the U S Federal Trade Commission is holding off regulating the IoT industry on a large scale until there is an event which "harms consumers right now". The commission stated that current regulations on technology used in the energy, pharmaceutical, and F&B industries suffice. However, a group of senators re-introduced a bill that would promote the IoT industry in the USA — the Developing and Growing the Internet of Things (DIGIT) Act — which includes several provisions that would encourage lawmakers to nurture connected technology instead of stifling their development.
Key Regulatory Requirements in Many Industries Could Drive Need for IoT-Related Devices