Singapore Experiences Surprising Growth in 3Q at Over 4% for the First Time in Three and a Half Years
 Highlights During 1–15 October
 The preliminary 3Q figure for Singapore's GDP was announced at 4.6% YoY and 6.3% QoQ, exhibiting high growth substantially above the market consensus. In addition, Malaysia's exports, which have been supporting the country's favourable economic conditions, exhibited double-digit growth for the ninth consecutive month.
 In other countries, attention was placed on the construction of the airport railway in Indonesia, which is estimated to be completed in November, as well as reports on statements by Thailand's provisional prime minister noting that the general election will be able to take place in November 2018.
 Indonesia: Airport Railway Estimated for Completion in November
 Indonesia's Consumer Confidence Index (CCI) for September was announced at 123.8. This figure exceeded that of August (121.9), and the country has maintained a level above 100, which is considered "optimistic", for 23 consecutive months since November 2015. By region, the capital of Jakarta was down by 3.3 points, while the second largest city of Surabaya was up by 12.6 points, with the increases amongst major regional cities standing out in particular. This is a strong point for Indonesia, which has vast territory and a large population.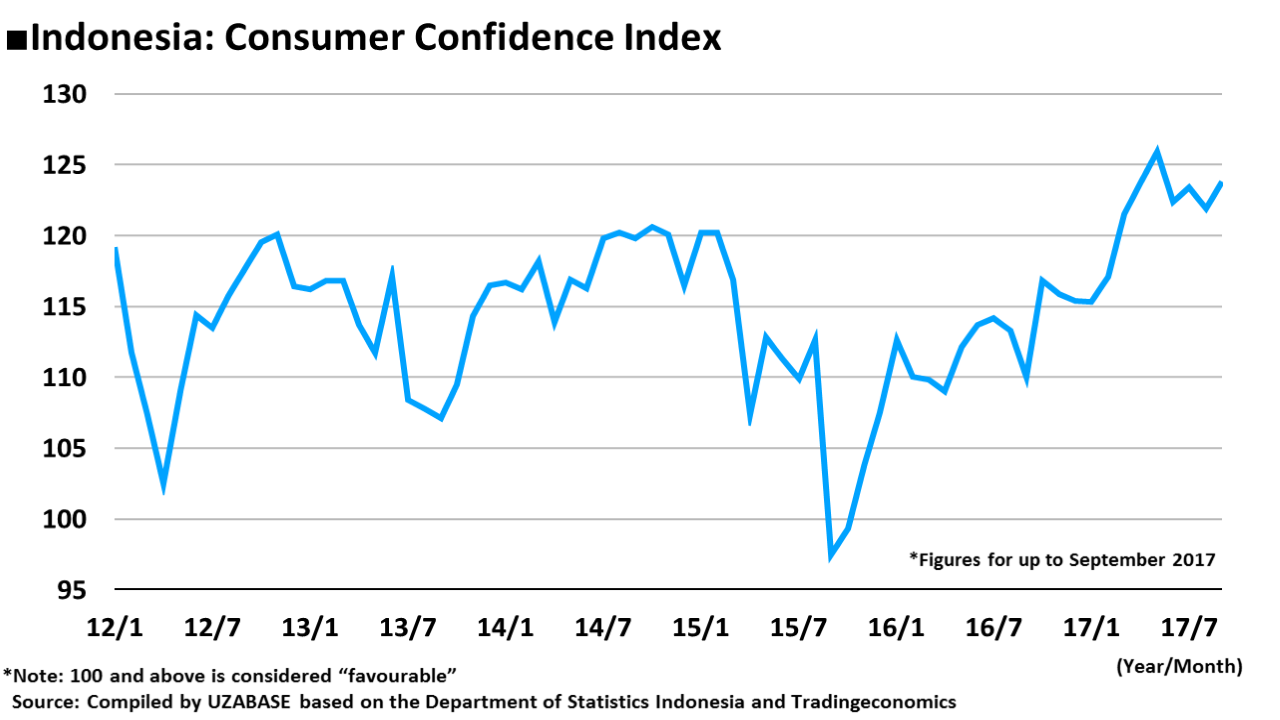 The country's retail sales in August rose by 2.2% YoY, marking a turn towards growth after falling -3.3% in July. A decline in consumption after the fasting month of Ramadan had affected July's figure, but August marked a breakaway from those effects (for more information on the effects from Ramadan, see "ASEAN Macroeconomic Trends: Malaysia and the Philippines Undergoing Rapid Growth; Indonesia Lowered Interest Rate"). The long-term trends, however, reveal that the recent growth rate for retail sales has been at a low level, and while the country's CCI is high, it is not connected to the rise in retail sales.
 After Indonesia's central bank, Bank Indonesia (BI), lowered interest rates for the second consecutive time (for more details, see "Indonesia Continues to Lower Interest Rates; Vietnam Records Over 7% GDP Growth for First Time in Seven Years"), whether or not consumption will be stimulated will be a point to watch going forward.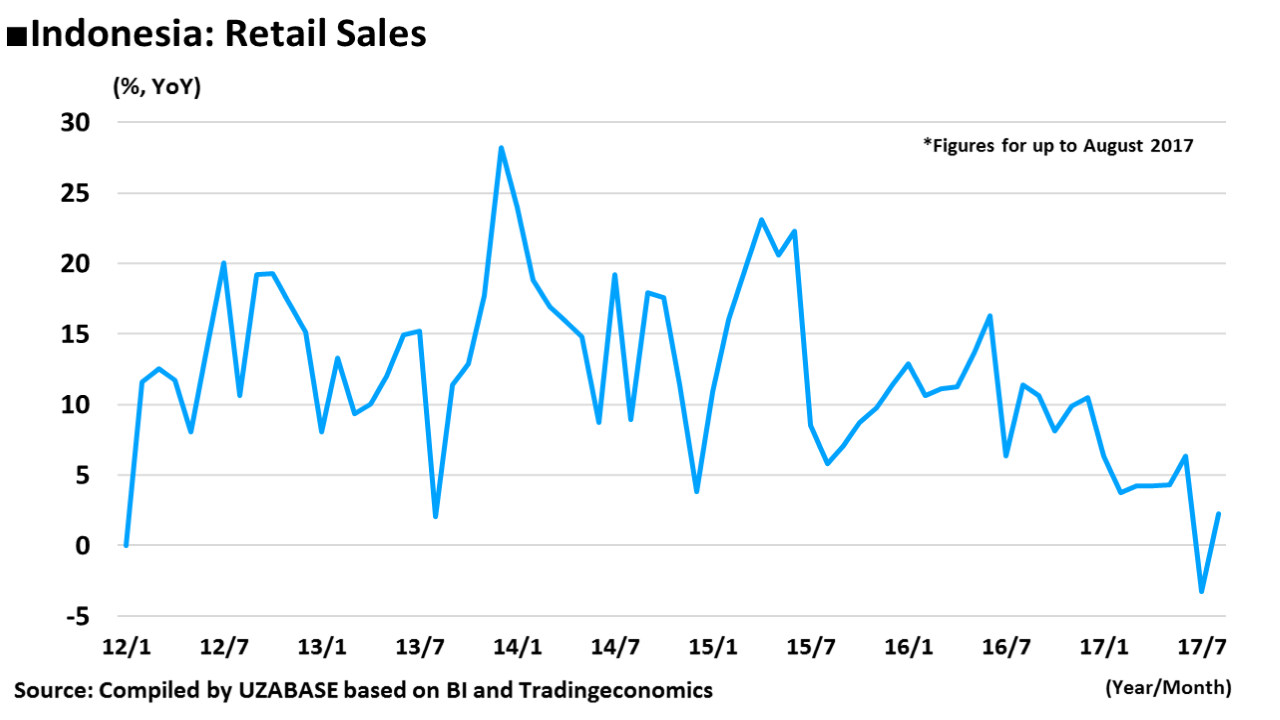 On 7 October, Indonesia's Minister of Transportation, Budi Karya Sumadi, announced that the construction of the railway connecting Soekarno-Hatta International Airport to Jakarta was 90% complete, and is estimated for completion by the target date of 25 November. The severe traffic conditions in Jakarta pose an issue for Indonesia, as they have also led to major opportunity losses for the country's economy. Once completed, this railway will likely be an important achievement for improved infrastructure in the Jakarta metropolitan area.
 Thailand: Business Confidence Is Strong, but Consumer Confidence Remains Weak
 Thailand's September Business Confidence Index (BCI) was recorded at 52.2, increasing from the 50.7 recorded in the previous month. The country's BCI has remained above 50, which is considered favourable, for five consecutive months. In addition, Thailand's Nikkei PMI was also above 50 in September at 50.3.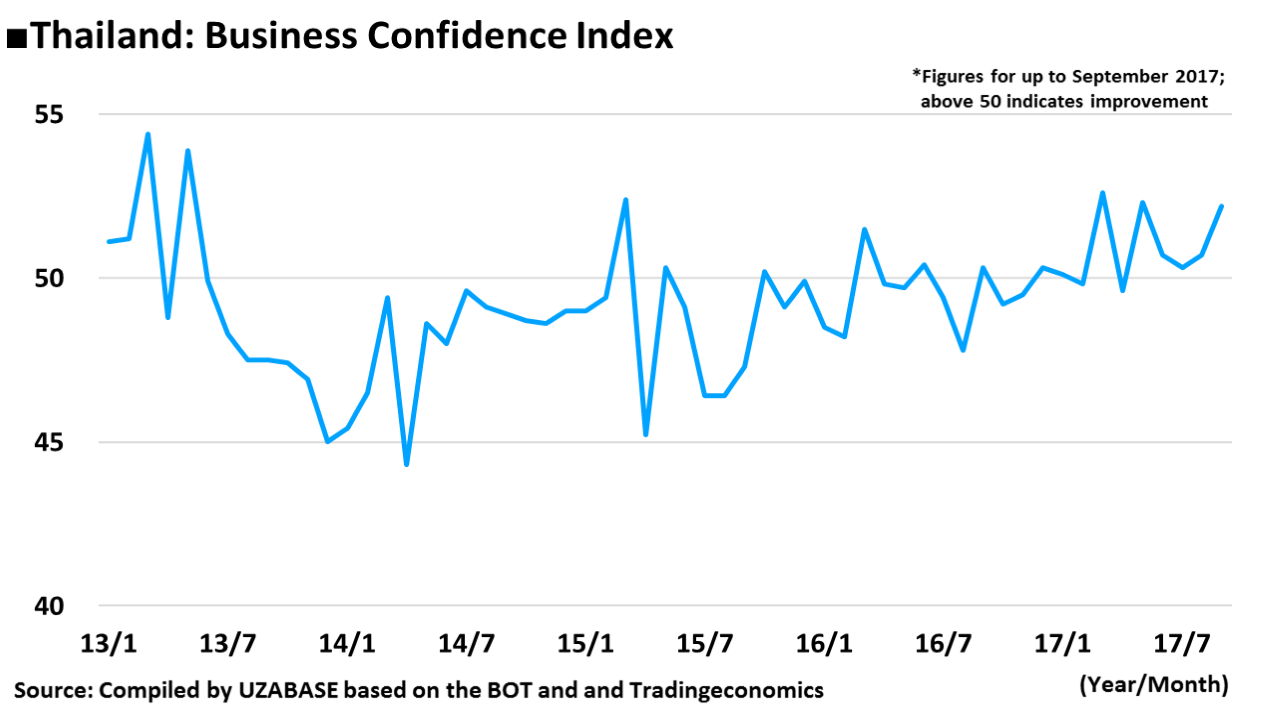 Furthermore, Thailand's CCI continued to rise for the second consecutive month, reaching 75.0. The last time Thailand's CCI was above the optimistic level of 100 was over 2003–04, which was more than ten years ago. It recently bottomed out, and has been on a gradual uptrend. However, there is currently a gap between the rates of growth for the country's BCI and CCI, a topic that was mentioned in a statement at the Bank of Thailand's (BOT) Monetary Policy Committee Meeting, which was covered in the previous report. In addition, the country has been experiencing an increasingly mournful mood surrounding the funeral ceremony for its previous king over 25–29 October. Consumers will likely avoid lavish spending, and a full-on recovery in consumption may not be reflected in the country's economic indicators until the end of the year.
 In terms of outlooks for the country's long-term economic growth, National Economic and Social Development Board (NESDB) Adviser Wichayayuth Boonchit noted that Thailand's real GDP growth rate is estimated at 3.8–4.3% in the Twelfth National Economic and Social Development Plan (2017–2021), driven by infrastructure construction and maintenance businesses. Furthermore, the NESDB adjusted the country's economic growth upwards by 0.2 percentage points for the full year in 2017 to 3.5–4.0% from the previous 3.3–3.8% YoY.
 Moreover, in the high-speed railway project for connecting Bangkok and Nong Khai (in Thailand's northeastern region), which is a joint plan with China, 77 Chinese engineers passed the technology exam required by Thailand's Council of Engineers. Foreign engineers and architects are generally restricted from entering the domestic construction business in Thailand, but this railway project was deemed as a special case under a decision by Prime Minister Prayuth Chan-ocha. Going forward, 17 Chinese architects are planning to undergo training and testing with the Council of Engineers.
 In the political arena, Prime Minister Prayuth Chan-ocha stated on 10 October that Thailand's general elections will be able to take place in November 2018, with detailed dates to be announced in June that year. However, it is not possible to forejudge whether or not the elections will take place during that time, as there have been cases in the past where the general elections did not take place during the announced period and were postponed several times. Furthermore, Prayuth Chan-ocha also stated in early October that laws and regulations pertaining to elections will be enacted by November 2018, after which the elections will be held within 150 days, leading to speculations that the general elections will be postponed until 2019.
 While Thailand's current administration is stable, it is still just an interim administration after the coup d'état that took place in 2014, and has not been able to set forth any daring economic reforms. The materials offering predictions on the development of the general elections are scarce and premature, but with the former prime minister, Yingluck Shinawatra, currently outside of the country, it will likely be important to follow the trends amongst Thaksin Shinawatra's (prime minister over 2001–06) family and any politicians close to it.
 Malaysia: Exports Continue to Be Favourable; Income Gaps Become Clear
 According to trade statistics for Malaysia in August, the country's trade balance was in the black at MYR 9.9 billion. Although the country's growth in exports slowed down to 21.5% YoY, which is below the 30.9% recorded in July, it continued on the ninth consecutive month of double-digit growth. Both natural gas and refined petroleum products exhibited remarkable growth in August at 101.8% YoY and 35.5% YoY, respectively.
 A look at Malaysia's export destinations shows that Singapore, which accounts for the largest share of the country's exports, was up by 20.5% YoY, while second-ranked China was up by 21.2% and third-ranked EU was up by 21.6%, with each showing substantial rises exceeding 20%.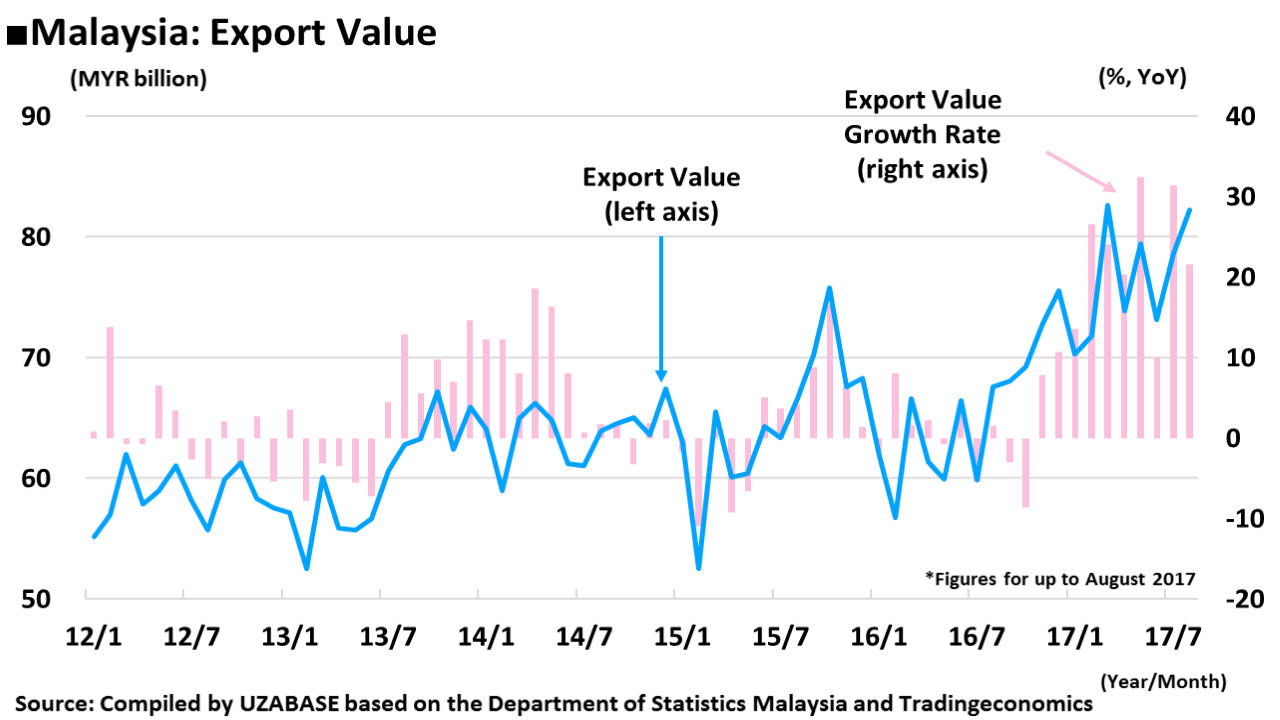 On 9 October, the Department of Statistics Malaysia announced a survey on the country's monthly income per household, which showed that the median figure for 2016 was MYR 5,228, up by 6.6% YoY. However, the survey revealed a gap of nearly 300% between the MYR 9,073 recorded for the capital city of Kuala Lumpur and the lowest figure, which was MYR 3,079 for the state of Kelantan.
 The Philippines: Inflation Accelerating, but Within an Acceptable Range
 The September inflation rate (YoY growth rate for the Consumer Price Index [CPI]) for the Philippines was 3.4% YoY, accelerating from the 3.1% recorded in August.
 In addition to the country's present favourable economic growth at over 6%, sales competitions for the Christmas season start in September (same each year), so a rise in consumption is likely affecting that growth. As such, it is likely that gradual inflation will continue up to December.
 The country's core inflation for September was also up by 3.3% YoY, which gained speed from the 3.0% for August. However, this has settled down within the range for the 2017 inflation target set by the Central Bank of the Philippines (Bangko Sentral ng Pilipinas, BSP), which is 3±1%. For that reason, there has not been significant pressure on the BSP for increasing interest rates, so it will likely continue to maintain the current policy interest rate.
 Furthermore, the approved investment amount for the Philippine Economic Zone Authority (PEZA) from January to September 2017 was approximately PHP 196.4 billion, marking a high increase of 94.1% YoY. Of that amount, 70% was accounted for by investments from foreign companies.
 On 29 September, the Asian Infrastructure Investment Bank (AIIB) decided to provide funds amounting to USD 207.63 million to improve flood management in the capital city of Manila, which became the first case of financing for the Philippines by the AIIB. The business scale of the Metro Manila Flood Management Project stands at USD 500 million in value terms, and the World Bank financed the same amount as the AIIB, while the Philippine government financed the remainder. The Manila metropolitan area floods easily if heavy rain continues, and this had previously caused a hindrance to the country's economic activity. Once finished, the project is estimated to prevent flooding in 17% of said metropolitan area.
 Singapore: Exhibited Surprise Growth at 4.6% in 3Q
 On 13 October, the preliminary figure from Singapore's GDP statistics for 3Q was announced at 4.6% YoY, accelerating from the 2.9% YoY growth registered in 2Q. The market consensus for the country's growth was 3.8%, so this preliminary figure reveals surprising growth, substantially above the consensus by 0.8 percentage points.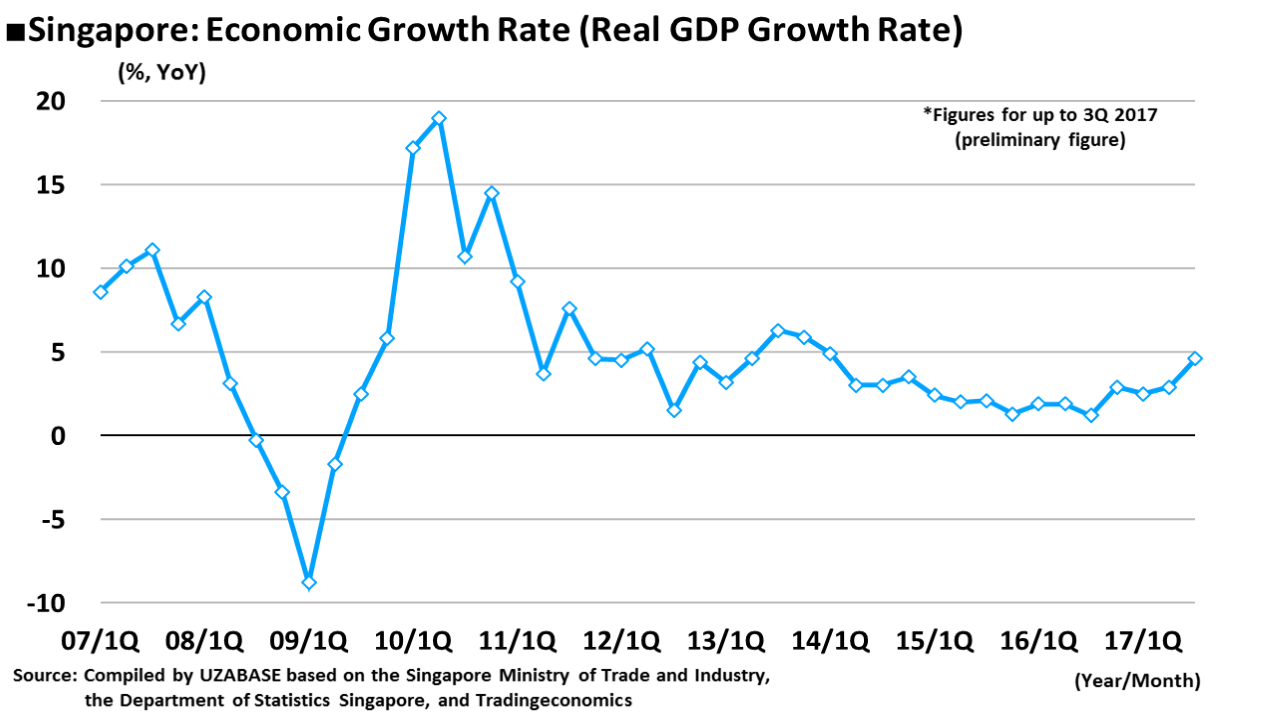 The export-oriented manufacturing sector is driving Singapore's favourable economic growth, with 3Q registering a high-level increase of 15.5% YoY and 23.1% QoQ. The country's construction industry had been the growth driver in 2013, but recorded negative growth in 3Q at -6.3% YoY and -9.2% QoQ.
 Singapore's Manufacturing Sector PMI for September was 52.0, which marked the 13th consecutive month above the 50 mark (considered favourable) since September 2016. Similarly, the country's Nikkei PMI ranked high within the Asian region at 53.7 that same month.
 The country's export dependency ratio (export values of goods and services divided by nominal GDP; 2016 data from World Bank) is currently at 172%, and the country ranks third in the world in terms of dependency on exports behind Luxembourg at 228% and Hong Kong at 187%. As such, the environment for external demand has a higher level of importance than that for internal demand in Singapore. Rises in the global demand for IT from countries like the USA, Japan, and China are currently having positive effects on Singapore's exports.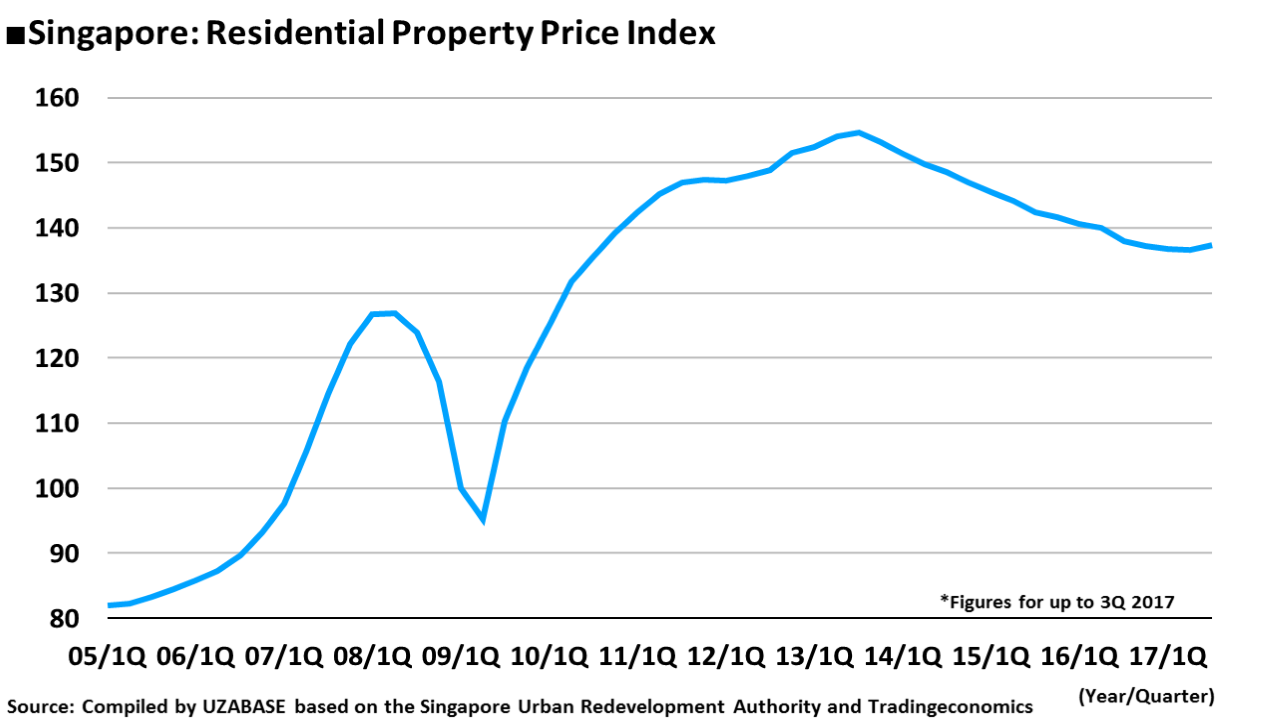 On the other hand, the preliminary figure for Singapore's 3Q Residential Property Price Index (RRPI) was announced at 137.3. Despite rising slightly from the 2Q figure of 136.6, which was the lowest level in recent years, the current figure displays a bearish market in comparison to the peak point of 2013. The construction boom over 2013–14 appears to have come around full circle, and is now in a period of adjustment.
 Key Focus in the Next Report
 The next report will cover the period from 16–31 October and focus on the following indicators in particular (dates in the brackets are scheduled release dates).
 Indonesia: Balance of Trade (September; 16 October), Policy Interest Rate (19 October), Foreign Direct Investment (3Q; 20 October)
 Thailand: Balance of Trade (September; 30 October), Retail Sales (August; 31 October), Coincident Index (September; 31 October)
 Malaysia: Leading Index (August; 21 October)
 Vietnam: Inflation Rate (October; 24 October), Retail Sales and Balance of Trade (October; 27 October)
 Singapore: Balance of Trade (September; 17 October), Residential Property Price Index (final figure for 3Q; 20 October), Inflation Rate (September; 23 October), Business Confidence Index (3Q; 31 October)