Thailand's Top Five Family-Owned Businesses: Future Beyond the Decades in Thailand
Some of Thailand's largest businesses are owned privately by single families over generations. The current five richest families in Thailand continue to derive their wealth from their continuing business empires. In 2017, the families' combined wealth from their businesses stood at about USD 95 billion (by asset value) as of 2017 (about 21% of Thailand's GDP the same year), while their combined revenue came in at USD 65 billion (about 14% of Thailand's GDP).
Thailand's five wealthiest family-owned businesses are as follows:
 1) Chearavanont (Charoen Pokphand Group, also known as CP Group)
 2) Chirathivat (Central Group also known as Central Holding)
 3) Yoovidhya (T.C. Pharmaceutical Group, also known as TCP Group)
 4) Sirivadhanabhakdi (Thai Beverage Public Company, also known as ThaiBev)
 5) Srivaddhanaprabha (King Power International Group, also known as King Power)
 These businesses cover dozens of sectors ranging from food, retail, real estate, and beverages to duty-free products and insurance. The common themes within each family are as follows:
a) Focus on Overseas Expansion after Reaching Business Maturity in Thailand
 CP Group, Central Group, and ThaiBev already have operations abroad. CP Group started its international operations as early as 1939 through its subsidiary CP Food (CPF), which derives about 60% of its revenue from overseas. In comparison, Central Group earns about 30% of its revenue from overseas and ThaiBev around 3%. The proportion of their revenue from overseas operations is expected to grow as the businesses further expand to other markets, particularly to Southeast Asia (all three families), Europe and North America (CP Group), and the Middle East (Central Group). TCP Group also plans to launch beverage products beyond Thailand. Only King Power remains restricted to Thailand, with no explicit plans for overseas expansion.
b) Business Expansion Brings Outsiders into Executive Roles
 CP Group, Central Group, and ThaiBev all employ outsiders as executives. Nevertheless, key family members continue to hold the helms as Chairmen and CEOs to control the companies' strategic direction and execution, with no plans of selling off their businesses to anyone. The reason behind the growing number of outsiders, however, is the need for suitable talent with the expertise to handle the expanding empires, particularly in overseas operations and unfamiliar segments such as e-commerce. In contrast, at TCP Group and King Power, family members continue to hold the majority of management roles, with little outsider expertise. King Power, in particular, is considered to be the riskiest as its founder/chairman, Vichai Srivaddhanaprabha passed away recently (27th October 2018). As of 2017, CP Group has the lowest proportions of family members in board or executive roles (around 13% and about 2% respectively), while TCP Group has the highest (83% on the board).
---
Top Five Families Account for Significant Proportion of Thailand's Economy
Thailand's big businesses play an important role in the country's economy. In Thailand, the big businesses are recognised in commonly known products, places, and services that many are familiar with, such as the universally available 7-Eleven, central shopping malls, Red Bull and Oishi beverages. These products and services are tied to family businesses with a decades-long history.
 According to Forbes, Thailand's five richest family-owned businesses (as of 2018) are Chearavanont (Charoen Pokphand Group), Chirathivat (Central Group), Yoovidhya (T.C. Pharmaceutical Group), Sirivadhanabhakdi (Thai Beverage Public Company), and Srivaddhanaprabha (King Power International Group).The combined wealth of the five families as of May 2018 was around USD 95 billion, which is almost 60% of the wealth of Thailand's 50 richest. The five families employ over 356,000 people in total, accounting for almost 1% of Thailand's total labour force as of August 2018 (as per Trading Economics). Additionally, the families' combined estimated revenue from their businesses per year is around USD 65 billion, which is around 14% of Thailand's current GDP of about USD 455 billion in 2017 and almost 3x the value of Thailand's exports (USD 23 billion) as of August 2018.
 Currently, all five families remain involved in their businesses, without changing ownership to outsiders through the decades. Therefore, an important question revolves around their future developments, particularly on leadership transition and on how each family handles expansion.
---
Chearavanont Family – CP Group
Operator of CP Group, the Largest Food Conglomerate in Thailand, with 100 Years of History and over 70 Years of International Experience
 According to Forbes, the Chearavanont family is ranked number one in Forbes' '2018 Thailand's Richest', with a net worth of about USD 30 billion (around 6.6% of Thailand's GDP). Additionally, as per Bloomberg, CP Group is controlled mainly by Dhanin Chearavanont and his three brothers, as they own more than 51% of the business. A spokesman for CP Group, Viranon Futrakul, mentioned in 2016 that each brother has a stake of roughly 13% in CP Group. Currently, CP Group has operations in about 20 countries worldwide: 13 countries in Asia, 4 in Europe, 2 in the Middle East, and 1 in North America.
---
 CP Group's Business Segments
---
 CP Group's Recent Major Developments Focus on Adding New Stores Domestically and Acquiring Firms Internationally
 1. CPF Expanded Exclusively Abroad to Establish Export Bases in Markets with High Growth Potential
| Company name | Business description | Country of acquisition | Year of acquisition | Value of acquisition (THB million) |
| --- | --- | --- | --- | --- |
| Westbridge Food Group Limited | Sale of meat and ready-to-eat products | UK | 2017 | 2,541 |
| Paulsen Food GmbH | Sale of meat to food service business and food manufacturers | Germany | 2017 | 466 |
| Chia Tai Food | Poultry farming and processing and sale of chicken meat products | China | 2017 | N/A |
| Bellisio Parent | Production and distribution of ready-to-eat single-serve frozen food | USA | 2016 | 38,335 |
| Fujian Sumpo Food Holding | Production and sale of animal feed; farming and sale of poultry; and processing and sale of chicken meat products | China | 2016 | 1,651 |
| COFCO Meat | Poultry farming; farming, processing, and sale of chicken meat products | China | 2016 | 976 |
| The FoodFellas Limited | Food service business | UK | 2016 | 495 |
| Hubei Chia Tai | Animal breeding and the manufacture and sale of animal feed and processed food products | China | 2016 | 489 |
| Norfolk Foods | Production and sale of ready meals | Sri Lanka | 2016 | 126 |
| CJSC Poultry Production Severnaya | Integrated poultry business | Russia | 2015 | 23,766* |
| CJSC Poultry Parent Stock Production (Woyskovitsy) | Integrated poultry business | Russia | 2015 | 23,766* |
| C.P. Cambodia | Integrated agro-industrial business | Cambodia | 2015 | 2,850 |
| CP Chozen Limited | Food kiosk business | UK | 2015 | N/A |
Source: Compiled by UZABASE based on various materials
*Combined value for both firms – Severnaya and Woyskovitsy
 2. Makro Expanded Both Domestically and Overseas via Additional Stores, Acquisitions, and Subsidiaries or Partnerships Abroad
 a) Makro's Acquisition Summary over 2015–17
| Company name | Business description | Country of acquisition | Year of acquisition | Value of acquisition (THB million) |
| --- | --- | --- | --- | --- |
| Indoguna (Singapore) | Produces, processes, and distributes meat products, seafood, and wines | Singapore | 2016 | 3,000* |
| Indoguna Dubai | Premium produce supplier | UAE | 2016 | 3,000* |
| Lordly Company | Gourmet food importer and distributor | Hong Kong | 2016 | 3,000* |
| Just Meat Company | Meat and poultry product importer and distributor | Hong Kong | 2016 | 3,000* |
Source: Company filings
*Combined value of all 4 deals
 b) Makro's Subsidiaries and Partnerships Overseas
| Company name | Business description | Country of acquisition | Year of acquisition |
| --- | --- | --- | --- |
| Makro (Cambodia) Company Limited | Operates wholesale and related businesses | Cambodia | 2016 |
| Indoguna (Cambodia) | Operates food service business | Cambodia | 2017 |
| CP Wholesale India | Operates wholesale | India | 2017 |
| Makro (Guanzhou) Food Company Limited | Operates retail, wholesale, and other businesses | China | 2017 |
| Maxzi The Good Food Restaurant & Cafe | Operates in restaurant and minimart operation | UAE | 2017 |
 3. CP All's 7-Eleven and Makro Expanded Store Numbers Domestically
| Company name | Major developments (2015-17) | Details |
| --- | --- | --- |
| CP All (7-Eleven segment) | 2015-17: – Introducing fresh fruit, fresh coffee, vegetarian menus, ready-to-eat vegetables, fruits, main dishes, snacks, and desserts – About 700 new 7- Eleven stores per year | Cover more areas in Thailand, with a target of reaching 13,000 7-Eleven stores from 10,268 stores as of 2017 by 2021E; aim for the stores to become 24-hour convenience stores for ready-to-eat products |
| Siam Makro (under CP All) | 2015-17: 41 new stores | 2015-17: New stores are in various formats by the following a) for small retailers b) for hotels, restaurants, cafes (HoReCa) businesses c) frozen food centre |
---
 CP Group's Major Future Developments Remain Focused on Overseas Expansion; Domestic Expansion Centred on Eastern Economic Corridor (EEC)
| Plan | Details | Country |
| --- | --- | --- |
| Expansion into frozen food products in the USA | Planning several M&A deals to launch frozen food products in the USA, starting with the acquisition of US-based firm Bellsio Foods in 2016. The aim is to export some products back to Asian markets, where Western foods are becoming more desirable. | USA |
| Expansion into India's cash and carry sector via a subsidiary | Planning to invest THB 4.43 billion in India over the span of 5 years, along with setting up 15 distribution centres in the north of India within 3 years under a subsidiary (LOTS Wholesale Solutions — a cash and carry wholesale for HoReCa customers). The development is expected to create around 5,000 jobs in India. | India |
| Investments into the EEC's high-speed trains and land acquisitions *The EEC is Thailand's initiative to develop three eastern provinces (Chonburi, Rayong, and Chachoengsao) into an economic hub for technological manufacturing and services, with high-speed trains, airports, a new city, etc. The EEC is expected to be completed by 2021 with foreign direct investment of over USD 9.3 billion as of January 2018 | – Planning to invest in high-speed trains (as part of the EEC), which will connect three different airports in Thailand: Don Mueang, Suvarnabhumi, and U-Tapao. – Planning to turn the sizeable land near the EEC's designated zones into industrial areas. News from Thansettakij states that CP Group is estimated to having bought over 55.3 million square metres in EEC areas already, accounting for 0.43% of the 13,000 square kilometres. | Thailand |
Source: FoodNavigator based on Nikkei Asian Review, Thailand's Board of Investment, Thansettakij, and Royal Thai Embassy (Washington DC)
---
 CP Group is Mainly Under the Control of Dhanin and His Sons
 In the Chearavanont family, Dhanin Chearavanont is deemed to be the individual behind CP Group due to his 48-year experience in executive roles such as Chairman and CEO. Dhanin took over the family business when he was 30 years old (he is 79 years old as of 2018), according to Forbes and Bloomberg. Currently, Dhanin has stepped back from the group's day-to-day operations and is instead focusing on its strategic direction, along with developments in the group's future executive roles via C.P. Leadership Institute, according to a 2017 interview of him in Timeline Suthichai, part of Nation TV, a Thai news channel. This institute is aiming to develop the new generation of C-Suite executives (CEO, COO, etc.), while pushing the existing C-Suite executives to roles on the board of directors.
 Dhanin Steps Down to Focus on Group's Direction and Developments Regarding Future Executives, with Plans to Retire Fully in 10 Years
| Name, age | Current role | Expected future role in 10 years (from 2017) |
| --- | --- | --- |
| Dhanin Chearavanont, 79 | Senior Chairman of CP Group | Retire |
| Soopakij Chearavanont, ~53 | Chairman of CP Group | Senior Chairman of CP Group |
| Suphachai Chearavanont, 51 | CEO of CP Group | Chairman of CP Group |
Source: Asian Nikkei Review, Forbes, Bloomberg, and interview in Timeline Suthichai
 Fourth Generation's Roles Remain Under Development, with No Major Roles in CP Group Yet
| Name, age | Relationship | Current role & company |
| --- | --- | --- |
| Tanit Chearavanont, ~28 | Soopakij's son | Managing Director of LOTS Wholesale Solutions (India), a subsidiary of Makro |
| Tanyatip Chearavanont, ~26 | Soopakij's daughter | Founder and CEO of 1.6 Development Corporation (not associated with CP Group) |
Source: LinkedIn and Bangkok Post
---
 A Snapshot of Chearavanont Family
---
Chirathivat Family – Central Group
 From Thailand's First Department Store in the 20th Century to 21st-Century Retail Giant
 Tiang Chirathivat founded the family business as a family-run shop during the 1950s. In 1956, Tiang's son Samrit expanded the general merchandise store into Thailand's first department store. Currently, the business is in the hands of third-generation member Tos Chirathivat, Tiang's grandson. Currently, Central Group is the largest retailer in Thailand, operating shopping malls, department stores, hotels, supermarkets, and restaurants, according to The Straits Times. As of 2017, Central Group has a store network over 4,996 locations/branches, with net saleable area of around 4.9 million square meters, accounting for about 64% of Thailand's total shopping mall area, according to Central Group and Collier International (a global commercial real estate firm).
 Central Group's Business Segments
---
 Recent Major Developments over 2015–17 Focused on Domestic and Overseas Expansion, Particularly in Southeast Asia and the Middle East
| Company name | Major developments (2015-17) | Target country |
| --- | --- | --- |
| CPN Group | 1) Seven new malls over 2015–17 2) About THB 3 billion condominium project in 2016 for multiple malls under CPN's management 3) Development of theme park project in 2017 between CPN and Bangna Central Property (BCP) for a theme park in Phuket 4) A Joint Venture in 2017 between CPN and Dusit Thani Public Company Limited (DTC) for an investment in a mixed-use development project. CPN's budget is THB 17,393 million (around 60% of 2017 total revenue)" | Thailand |
| Central Hotels & Resorts | 2015-17: 1) Three new hotels and two resorts 2) Acquired management of eight hotels 3) Five investments in hotel locations 4) Signed contracts to manage six hotels | 1) Thailand and the Middle East 2) Thailand, Vietnam, China, Qatar, and Cuba 3) Thailand and Dubai 4) Thailand, Qatar, Maldives, Laos, and Cambodia |
| CDG Group | Acquisition of KaDeWe Group, which has three luxury malls as of 2015. This is after a series of expansions into luxury malls in Europe since 2011 and in Thailand in 2014 | Germany |
---
 Future Developments Follow Past Developments With Domestic, and Overseas Expansions in Southeast Asia Particularly Vietnam and the Middle East
| Company name | Future developments | Target country of major developments |
| --- | --- | --- |
| Central Group | Plans to invest THB 47.5 billion to boost stores in Thailand and Vietnam: By 2022, over 2,600 stores are expected to be added (versus 4,970 stores in Thailand at present). Over 500 stores in 20 more provinces in Vietnam are expected to be added during the same period (versus 217 stores in 37 provinces at present) – Opening a shopping mall in Malaysia – Second attempt on expansion into China (first attempt in 2011 was unsuccessful) – An e-commerce deal with JD.com to develop e-commerce and fintech joint ventures | Thailand, Vietnam, Malaysia, China |
| COL Group | – Turning OfficeMate (a COL company that caters to the office supply sector) into a franchise model for rapid expansion (target goal of 7,500 stores by 2022 versus 5,000 stores at present) – Development of online platform | Thailand |
| Central Hotels & Resorts | New property, including a luxury hotel and other hotels | Luxury hotel: Qatar |
Hotel openings: Laos, Cambodia, China, Indonesia, and Dubai
Source: Nikkei Asian Review and company filings
---
 Family Members Heavily Involved in Business, Currently Led by Tos Chirathivat
 Tos Chirathivat became Central Group's CEO in 2013 due to his track record specifically in diversifying Central Group's business operations, according to Nikkei Asian Review; he continues in this role to date. Currently, Central Group is strongly dominated by family members, in line with the wishes of the founders (Tos' grandfather and father), as stated by Tos during an interview with Nikkei Asian Review. This is in contrast with CP Group, where Dhanin Chearavanont has preferred not to involve relatives in the group on the belief there would be conflicts in leadership transitions.
 Increase in Outsider Involvement in Executive Roles Underway
 The Chirathivat family comprises over 200 people, 51 of whom currently work under Central Group. Despite the large number of family members involved, Tos Chirathivat intends to involve outsiders in the business. This can be seen as a logical move, given Central Group's increasing number of overseas operations and the value of local knowledge for their success. An example of an "outsider" at Central Group is COO Nicolo Galente, an Italian native and a former McKinsey consultant. Nicolo came in to handle online operations and marketing channels for Central Group in Europe.
---
 A Snapshot of Chirathivat Family
---
Yoovidhya Family – TCP Group
 Transition from Pharmaceutical Salesman to Originator of Red Bull
 Chaleo Yoovidhya founded the medicine company T.C. Pharmaceutical in 1956 with the ambition of running his own business, following his experience as a pharmaceutical supplies salesman. The company developed, manufactured, and distributed its own pharmaceutical formulations such as pain relief and fever relief drugs under the brand "T.C. Mycin". Later, the company expanded its product range to consumer goods, including powder, shampoo, toothpaste, and cosmetics.
 When Chaleo Yoovidhya later saw significant business opportunities in the ready-to-drink beverages market, he developed and launched energy drinks under the now well-known trademark "Red Bull". Red Bull energy drinks achieved considerable success owing to the company's innovative and robust marketing campaign 'Sprightly Red Bull', which included a price reduction and redemption of various premium merchandise in exchange for Red Bull's bottle caps. The marketing campaign was the first of its kind and broke new ground in advertising in Thailand, resulting in strong media attention and rapid gains in brand-awareness.
---
 Red Bull Went Global, with Significant Success Owing to Cooperation with Austrian Businessman
 The business opportunities for Red Bull were not limited to Thailand. Founder Chaleo Yoovidhya achieved further growth by establishing a new company – T.C. Pharmaceutical Industries – in 1978. The main objective of the new company was the export of Red Bull, including to other countries Asia (starting with Singapore) and to Europe. Later, Chaleo and his family established another company, Red Bull GmbH in Austria, holding 51% of it, while the remaining 49% was held by Dietrich Mateschitz, an Austrian businessman. Red Bull GmbH marketed and distributed the brand in over 70 countries globally during 1978-87.
 The company solidified its leadership position in the beverage market in Thailand during 1988-97. This was mainly through Red Bull, along with other new drink products and a new distribution system that used vending technology from Japan, owing to the company's in-depth understanding of the Thai market. From 1988 until present, the company has increased its manufacturing hubs and distribution capacity and also achieved insight-driven portfolio expansion. As of 2017, Red Bull has the highest market share in the global energy drink industry, with more than 6 billion cans sold per year in 171 countries.
---
 Two Branches of Descendants: One Branch Looks After International Companies, While the Other Handles Domestic Operations
 The Yoovidhya family owns TCP Group and around 20 other companies in Thailand and abroad. The Yoovidhya family is divided into two branches: the first comprises Chaleo Yoovidhya's five children from his first wife, Noklek Sodsee; the second comprises the six children from his second wife, Bhavana Lhangdhara. At present, son Sarawut Yoovidhya is the most prominent member in the Yoovidhya family's business in Thailand. Sarawut Yoovidhya is currently the new CEO of T.C. Pharmaceutical Industries Co., Ltd. Chalerm Yoovidhya (the founder's first son) and his family take care of Red Bull companies in Europe. Additionally, Chalerm Yoovidhya and his family own more than 20 companies in Thailand.

---
 TCP Group Aims to Take Other Products Global, Similar to Red Bull
 TCP Group plans to invest around THB 10,000 million (around 35% of the FY2017 revenue of T.C. Pharmaceutical Industries, the family's main company in Thailand) in its business plan for 2017–22 to introduce their products (other than Red Bull) to overseas markets. The outcome of the plan is to triple revenue to around THB 100,000 million. Currently, TCP Group has two manufacturing plants in Thailand, one in Indonesia, one in Vietnam, and one in China. Their combined annual production capacity totalled 1,000 million litres. Over the next five years, TCP Group targets establishing at least one manufacturing plant in each country to solidify its strong position as an energy drink leader.
---
 A Snapshot of Yoovidhya Family
---
Sirivadhanabhakdi Family – ThaiBev Group
 Close Connection with Powerful Man Made Founder Charoen Billionaire King of Liquors in Thailand
 At the time founder Charoen Sirivadhanabhakdi turned 17 in 1961, he was employed in a liquor supplying company as a deliveryman responsible for delivering raw materials to liquor factories. While carrying out his duties, he formed connections with the following personalities: elite liquor maker Jul Kanchanalaksana; Dhalerng Laochinda, who had authority and power to purchase factory equipment during the era; and a major shareholder in a liquor company. Owing to Charoen Sirivadhanabhakdi's manners and humility, he gradually became one of Dhalerng Laochinda's closest and most trusted business associates until they eventually became business partners.
 Sirivadhanabhakdi Family's Business Segments
Source: Compiled by UZABASE based on various materials
---
 The 'Lord of Takeovers' in Thailand
 In 1975, Charoen Sirivadhanabhakdi and Dhalerng Laochinda acquired a liquor company that had incurred losses; they have been operating it to date under the name Sangsom. Later, in 1986, Charoen Sirivadhanabhakdi entered the banking and finance business, buying shares in various banks and finance and security companies. Almost a decade later, in 1994, he acquired Imperial Hotels Group, which has many more affiliated hotels. In view of his many large acquisitions since then, he has become well-known as Thailand's 'lord of takeovers'. Following are the latest acquisitions made by Charoen Sirivadhanabhakdi and his family.
| Year | Acquiring party | Acquired party and details | Stake acquired | Deal value (THB million) | Country |
| --- | --- | --- | --- | --- | --- |
| 2017 | ThaiBev | Grand Royal Group, the largest player in Myanmar's whisky market | ~75% | ~THB 24,000 | Myanmar |
| 2017 | ThaiBev | Yum Restaurants International; 252 KFC franchises in Thailand | Substantial | ~THB 11,300 | Thailand |
| 2017 | ThaiBev | Spice of Asia, a company that operates several hot pot and Thai cuisine restaurants | ~76% | ~THB 115 | Thailand |
| 2016 | Sirivadhanabhakdi Co., Ltd | Amarin Printing and Publishing | 47.6% | ~THB 850 | Thailand |
| 2016 | Berli Jucker PCL | Big C Supercentre; plans to expand Big C hypermarkets in Malaysia | 97.9% | ~THB 200,000 | Thailand |
Source: Compiled by UZABASE based on various materials
---
 Despite His Substantial Wealth, Charoen Sirivadhanabhakdi Continues to Strive and Contribute to Company Growth
 Charoen Sirivadhanabhakdi is listed as the fourth-richest person in Thailand, with a net worth of THB 562.9 billion. Having pioneered his businesses, he remains in charge to date. As of 2017, he holds the titles of Chairman, Executive Chairman, Chairman of the Board, and Chairman of the Board of Directors in 12 companies, alongside his wife (Vice Chairman of eight companies and Chairman of two). His only two sons are also in the core management team. Panote Sirivadhanabhakdi, the elder of them, holds positions of Director, CEO, and Vice Chairman in 14 companies. The younger, Thapana Sirivadhanabhakdi, holds similar titles in 15 companies.
 Charoen Sirivadhanabhakdi and his wife hold a 65.89% stake in ThaiBev as of October 2017. The company wholly owns 28 companies involved in the spirits product group, wholly owns 12 companies in the beer product group, and holds a 51% stake in two companies in the beer product group. Furthermore, ThaiBev also wholly owns 20 companies that operate as sole agents and own trademarks in the route-to-market and supply chain management group for the company's alcohol products. It also wholly owns 38 subsidiaries overseas. In non-alcoholic beverages and other sectors, the company either wholly owns or holds substantial shares in 31 companies.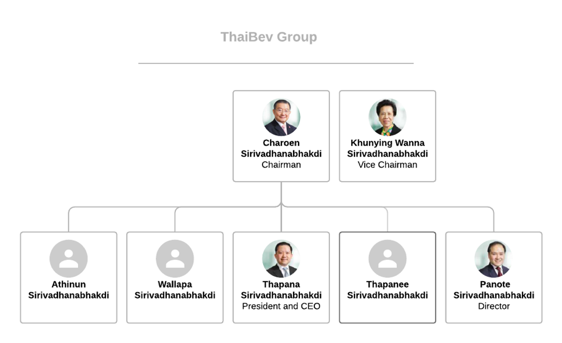 ---
 'Vision 2020′ to Push ThaiBev to Leadership Position in Alcoholic Beverage Market in Southeast Asia
 As part of its 'Vision 2020' goals, Thai Beverage PCL aims to become Southeast Asia's leading beverage company and generate sustainable returns for its shareholders. It has also expanded further in Southeast Asia, growing into a more significant player in the region's beverage industry. ThaiBev is currently focusing on expanding into overseas markets, especially in Southeast Asia, a core market with high growth potential (consumer purchasing power in this region – with over 600 million people – continues to increase as the economy grows and welcomes more tourists each year).
 Over the past two years, ThaiBev has launched the brands "Chang" (beer) in Vietnam and "Oishi" (food business) in Myanmar. The latter continuously penetrating the market through a distribution network that the company shares with Fraser and Neave, Limited. Moreover, the group has benefited from Fraser & Neave Holdings Bhd's strong manufacturing base in Malaysia to expand into halal markets in Southeast Asia. Additionally, ThaiBev recently acquired a 75% stake in Grand Royal Group, the largest player in Myanmar's whisky market; the acquisition is an important step for ThaiBev as it further expands in Southeast Asia.
---
 A Snapshot of Sirivadhanabhakdi Family
---
Srivaddhanaprabha Family – King Power
 Transferring Knowhow to Thai Duty-Free Business from Hong Kong; Working on Behalf of State Enterprise Tourism Authority of Thailand
 In 1989, the late Vichai Srivaddhanaprabha founded King Power, the first operator of duty-free shops in Thailand. The concept of duty-free shops emerged from Vichai Srivaddhanaprabha's experience as a youth studying abroad in Taiwan. Back then, when all flights between Taiwan and Thailand transited through Hong Kong, Vichai Srivaddhanaprabha's friends and family had often asked him to carry back duty-free items. His idea of opening duty-free shops became further solidified during subsequent air travel, when he saw duty-free businesses in other countries. He entered duty-free business by buying a 10% stake in his friend's duty-free business in Hong Kong. Two years after this first purchase, he became the major shareholder.
 When Thai Airways won the concession to operate duty-free business, it sub-granted it to a third party that limited its duty-free offering to souvenirs and brand-name items. To improve on this situation, Vichai Srivaddhanaprabha approached the Tourism Authority of Thailand (TAT) and nominated himself to operate duty-free business. The proposal was accepted: he would bring his business knowhow from Hong Kong, and TAT could continue to hold the concession. The business succeeded through cooperation between him and a Thai partner (they later separated).
 Subsequent to this history, there was a bidding for a concession strictly for state enterprises to operate duty-free shops outside airports. Vichai Srivaddhanaprabha convinced TAT to invest together with him, proposing to TAT that it would not have to do anything except lend its name and receive a 10% share of the prospective company. As of 2018, the company's duty-free business unit operates nine stores in major cities and airports including in Bangkok, Phuket, and Pattaya. Currently, King Power is without its main leadership from Vichai due to his recent demise in 27th October 2018.
---
 King Power's Duty-Free Business Contributes Significantly to the Family's Wealth
 King Power runs two categories of business units: duty-free retail business units (nine companies in Thailand) and non-duty-free business units (six). Of the two categories, duty-free business units are the stronger, in both the ability to generate revenue and the value of total assets invested. According to the Department of Business Development of Thailand, in 2017, the duty-free business units generated THB 105 billion in revenue, with total assets worth THB 78 billion; the non-duty-free business units generated THB 4.3 billion in revenue, with THB 9.3 billion worth of total assets. The duty-free business units accounted for 96.1% of the combined total revenue and 89.3% of the combined total assets. As such, the duty-free business units contribute significantly to the Srivaddhanaprabha family, the six core members of which are the company's main shareholders.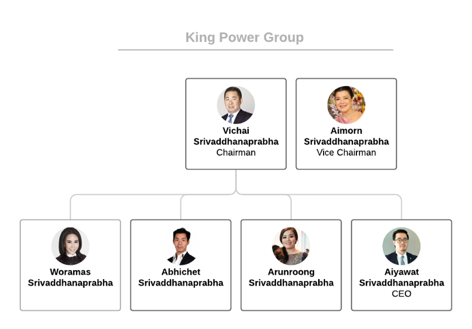 Note: Vichai recently passed away on 27th October, 2018
---
 Strategies for 2018-21 to Raise Company Ranking to Top Five in Duty-Free Business Globally
 King Power recently developed business plans and strategies for 2018-21 with a budget of at least THB 10,000 million (around 18% of the 2017 revenue of King Power International, the family's main company). This is in order to drive sales to a target THB 130,000-140,000 million (almost triple the revenue of King Power International's FY2017 revenue).If it reaches this sales target, King Power would rank among the global top five in duty-free business, versus its current ranking of seventh. King Power aims to expand its large store branch to Chiang Mai by potentially establishing the company's 11th branch (as of the current count). The plan includes the aim to expand overseas within five years; the most likely countries are Myanmar and the Philippines. Apart from store-based operations, online platforms are also to be developed further for customer convenience and ease of use (as revenue generated from the online platform have accounted for less than 1% of total sales in recent times). Sales from the online platform is expected to contribute around 10% of total sales, following the development of the platform in five years' time.
---
 Youngest Son Expected to Step Up After Founder's Death
 Before Vichai's death in October 2018, he had plans to retire and pass on the business to his four heirs. However, ownership would not be split into four equal portions. He planned to let the heirs decide among themselves the business's next leader. The leader would hold 60% of the group's shares; the three remaining heirs would each hold 10% stakes, while Vichai himself would hold another 10%. The reason for not dividing the shares equally was Vichai's belief that talents differ from one individual to another. With his death, Aiyawat might probably take over the leadership of King Power due to his current role as the CEO and Vice-Chairman of King Power. If this is the case, how Vichai's 10% stake will be divided remains unknown.
---
 A Snapshot of Srivaddhanaprabha Family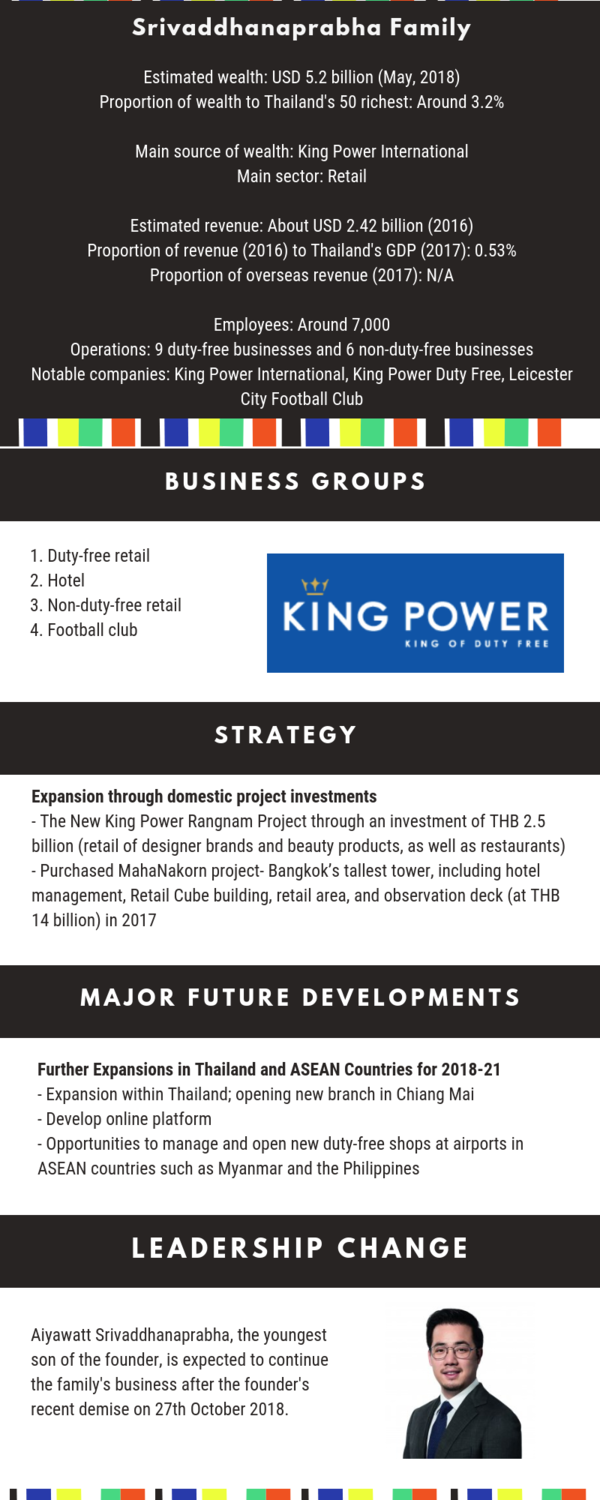 ---
 CP Group and ThaiBev Lead Transformation of Family-Owned Businesses into Professionally Run Conglomerates; King Power the Most Vulnerable
 Despite being family-owned businesses, CP Group and ThaiBev are two examples of big family establishments that have very few family members left on their boards or C-Suites (less than 25% for each company). Central Group is also attempting to take the path of avoiding outsiders in executive positions. However, with 51 family members working for Central Group, family members continue to control almost half of the board of directors and one-fourth of the executive roles in their publicly listed firms such as CPN and Central Hotel Plaza. Meanwhile, the managements of TCP Group and King Power continue to comprise family members for the majority, potentially because their operations remain mostly in Thailand. Although more than half of these families have become more open to outsiders, main strategic and operational roles such as CEO or Chairman are almost always under family members. Additionally, none of the families are showing any signs of selling off their businesses in the foreseeable future.
 The main reason for CP Group, Central Group, and ThaiBev to bring in more outsiders is the shared philosophy among these families of choosing the right person for the job, rather than a familiar family member. This is something Dhanin (CP Group) and Tos (Central Group) have mentioned specifically during interviews. This philosophy has gained strength due to the family businesses' increasing global presence beyond Southeast Asia — in China, the USA, Europe, and the Middle East, where executives with local market knowledge are needed.
 As of 2017, three of the top five companies (namely CP Group, Central Group, and ThaiBev) have overseas operations established for longer than five years. These families place heavy emphasis on expansion in Cambodia, Laos, Myanmar, and Vietnam (CLMV), while CP Group also focuses on North America and India, and Central Group on the Middle East. Among the companies, CP Group is ahead in securing an international footprint; its subsidiary, CP Food, derives about 60% of its revenue from abroad as of 2017, followed by Central Group (around 30%) and ThaiBev (around 3%). Central Group did not succeed in expanding into China in 2011; several of its malls there were closed down by 2015 due to strong market competition. Nevertheless, its expansions in the early 2010s in Europe, Vietnam, and other countries have won it an international foothold. TCP Group is also planning to launch its products outside of Thailand for the first time.
 Of the five groups, only King Power appears to have no concrete plans of expanding abroad, apart from an intention to expand abroad in Southeast Asia within five years. This is due to the nature of King Power's duty-free business, which can grow only to a limited extent from operations at major Thai airports alone. Currently, King Power's business relies on winning the auction process to sell duty-free products at airports. A concession received from an auction needs to be re-auctioned after expiration. The group's profits and business itself is therefore extremely susceptible to it losing an auction.
 Estimated Proportion of Family Members on Board of Directors and in Executive Roles
| Chearavanont family (CP Group) | Chirathivat family (Central Group) | Yoovidhya family (TCP Group) | Sirivadhanabhakdi family (Thai Bev) | Srivaddhanaprabha family (King Power) |
| --- | --- | --- | --- | --- |
| Board: 13% Executive roles: 2% | Board: 46% Executive roles: 26% | Board of directors: 83% Executive role: N/A | Board of directors: 22% Executive roles: 14% | Board of directors: N/A Executive roles*: 32% |
Source: Compiled by UZABASE based on various materials
Note: For both CP Group and Central Group, the numbers in the table were derived by averaging the board of directors and executive roles from their publicly listed firms (excluding all their private companies)
*King Power provides only a list of names, but no specific roles, apart from stating that they are in an executive role; it is therefore assumed that all are in executive roles
---
 Only CP Group Has Laid out a Clear Plan for Future Leadership Transition; King Power's Future Direction Uncertain due to Recent Demise of Founder/Chairman
 CP Group has the most explicitly laid out plan for leadership transition, while others provide no clear visibility on the matter. Central Group's chairman is relatively young, and the chance of him retiring from his current role is lower than other families. Meanwhile, ThaiBev's Chairman is in his 70s' which is on the older side, however, with only two family members working in the group amongst tens of outsiders on the board and in executive roles, there is less of a chance for leadership disruption by a family member.
 The families most at risk in terms of leadership transition, however, are TCP Group and King Power. Both have high involvement of family members in executive or director roles: TCP has a chairman estimated to be in her 70s; King Power had its leadership greatly affected by the recent death of Vichai, its founder and chairman thus far. When the current leadership changes, there is a higher possibility of disagreements among current working family members, when compared with other families that have a clear succession plan or little involvement of family members (such as CP Group and ThaiBev). This risk could impact their strategic direction if disagreements occur. This makes CP Group, Central Group, and ThaiBev the more stable of the families.
| Name of business/family | Leadership transition plan | Name, role(s), age of key family members |
| --- | --- | --- |
| CP Group/Chearavanont Family | – Dhanin (current Senior Chairman) will step down in 10 years counting from 2017 – His eldest son, Soopakij, will assume the position of Senior Chairman – His other son, Suphachai, will assume the position of Chairman – Unconfirmed person to be CEO | – Dhanin, Senior Chairman, 79 – Soopakij, Chairman, around 53 – Suphachai, CEO, 51 |
| Central Group/Chirathivat family | N/A | – Tos, Executive Chairman and CEO, 53 |
| TCP Group/Yoovidhya family | N/A | – Bhavana, Chairman, age N/A* – Sarawuth, CEO, 47 |
| Thai Beverage/Sirivadhanabhakdi family | N/A | – Charoen, Founder and Chairman, 74 – Thapana, President and CEO, 47 |
| King Power/Srivaddhanaprabha family | Vichai (Chairman) would let his four children decide among themselves on the leadership transition | – Vichai, Founder and Chairman (recently deceased on 27th October 2018), 61 – Aiyawat, CEO, around 33 |
Source: Compiled by UZABASE based on various materials
*Note: Bhavana is possibly in her 60s or 70s, given that her son, Sarawuth (current CEO), is 47
---
 Appendix A: Chearavanont Family (CP Group)
 Prominent Listed Companies Under CP Group
| Company name | Business description | Revenue (FY 2017; THB million) | Revenue CAGR (2014-17) | Operating profit margin (FY 2017) |
| --- | --- | --- | --- | --- |
| Ping An Insurance | A personal financial services group focusing on insurance, banking, trust, securities, other asset management, fintech, healthcare, and other businesses. Ping An is ranked 1st in market capitalisation among global insurance groups and 1st among Chinese insurers. | 4,629,208 | 22.5% | 9.7% |
| Charoen Pokphand Foods PCL (CPF) | Operates vertically integrated business in agro-industrial and food conglomerates. The firm comprehensively covers feed, farm, and food business including the manufacture of animal feed, animal breeding, and animal farming; meat processing, the manufacture of semi-cooked and fully cooked meat; and food and ready-meal products, along with meat, food retail, and restaurant businesses. | 501,507 | 5.6% | 6.0% |
| CP All Public Company Limited | The company's main business is the convenience store "7-Eleven" in Thailand. Other operations focus on bill payment collection service, food and bakery products, sale and maintenance of retail equipment, payment using smart cards, IT services, logistics services, marketing services, educational institutions, and business seminar services. | 489,403 | 9.6% | 6.4% |
| Siam Makro Co., Ltd. (under CP All Public Company Limited) | Operates mainly in Thailand and Vietnam (established in 2012). The Vietnamese operations are centred on the export, import, and sale of food products to hotels, restaurants, cafes (known as 'HoReCa'). In 2014, it opened a second location in Vietnam. As of the end of 2017, there are 123 stores in Thailand, with total sales space of 729,763 square metres. | 186,754 | 9.4% | 4.3% |
| True Corporation PCL | A telecommunications provider with core businesses in three areas: 1) TrueMove H, which operates in cellular via 4.5G/4G, 3G, and 2G networks nationwide 2) TrueOnline, which operates broadband internet services, business data services, and data gateways 3) TrueVisions, which operates pay TV, high-definition TV, and digital TV services | 141,290 | 9.0% | 4.6% |
---
 Appendix B: Chirathivat Family (Central Group)
 Prominent Listed Companies Under Central Group
| Group/company name | Business description | Revenue (FY2017; THB million) | Revenue CAGR (2014–17) | Operating profit margin (FY2017) |
| --- | --- | --- | --- | --- |
| Central Pattana Group (CPN) | Development of properties for the retail market, such as shopping centres, office buildings, residential buildings, water parks, recreational parks, and hotels. Total portfolio includes 58 hotels and resorts, with 11,891 rooms under 6 different brands | 30,875 | 6.7% | 32.0% |
| Robinson (under Central Department Store Group 'CDG') | Robinson is the largest department store in Thailand (in terms of the number of stores). Currently, there are over 30 Robinson Department Stores in Thailand | 25,989 | 2.8% | 10.6% |
| Central Hotels & Resorts | Hotel and resort operator handling different types of hotels and resorts, ranging from luxury to boutique hotels. Total portfolio includes 60 properties in Thailand, Maldives, Sri Lanka, Laos, Vietnam, China, the UAE, Qatar, and Oman | 20,346 | 3.4% | 9.8% |
| Central Online Group (COL) | Engaged in supplies, supply solutions, stationary shops, and bookstores. OfficeMate, a publicly listed company, operates under COL. COL currently has 70 OfficeMate stores in Thailand, with online and mobile channels | 11,207 | 6.8% | 4.5% |
---
 Appendix C: Yoovidhya Family (TCP Group)
 Prominent Firms Among Yoovidhya Family
| Company name | Business category | Revenue (FY 2017; THB million) | Revenue CAGR (2014–17) | Operating profit margin (FY2017) | Family ownership |
| --- | --- | --- | --- | --- | --- |
| T.C. Pharmaceutical Industries Co., Ltd. | Food and beverage manufacturer and exporter | 27,751 | 7.3% | 29.9% | Owned by Chaleo's second wife and her children |
| Durbell Co., Ltd. | Logistics and distribution | 11,147 | 12.1% | 2.5% | Owned by Chaleo's second wife and her children |
| Red Bull Beverage Co., Ltd | Brand-building, marketing, and sales | 9,686 | -0.7% | 3.8% | Owned by Chaleo's second wife and her children |
| T.G. Vending and Showcase Industries Co., Ltd. | Innovator of vending machines | 247 | 14.3% | 3.0% | Owned by Chaleo's second wife and her children |
| Red Bull GmbH (Austria) | Marketing and distribution | EUR 3,428 million (~THB 132,184 million as of 2016)* | 8.2% (2013–16)** | 20.5%**(2016) | 49.0% owned by the family – 31.2% by the second branch and 17.8% by the first branch |
| Red Bull Media House GmbH (Austria) | Manufacture, marketing, and distribution | EUR 551 million (~THB 21,247 million as of 2016)* | 16.7% (2013–16)** | 2.4%** *(2016) | 100%-owned by Red Bull GmbH (Austria) |
Source: SPEEDA
*EUR/THB = 38.56 with 2016 as the latest available figure
**2016 is the latest available figure
***Figure is pretax profit margin
 Prominent Firms Among Chalerm Yoovidhya Family
| Company name | Business category | Revenue (FY 2017; THB million) | Revenue CAGR (2014-17) | Operating profit margin (FY2017) | Family ownership |
| --- | --- | --- | --- | --- | --- |
| Siam Winery Co., Ltd | Manufacture of fruit and wine liquors | 2,516 | 6.9% | 17.1% | 100.0% |
| Cavallino Motors Co., Ltd | Automobile retail | 1,569 | 24.7% | 10.6% | 41.0% |
| Siam Winery Trading Plus Co., Ltd | Alcoholic beverage retail | 468 | -54.0% | 7.7% | 75.0% |
| Cavallino Service Co., Ltd | Automobile maintenance and repair | 74 | 18.3% | 15.0% | 41.0% |
---
 Appendix D: Sirivadhanabhakdi (ThaiBev)
 Prominent Firms Among Sirivadhanabhakdi Family
| Company name | Business category | Revenue (FY 2017; THB million) | Revenue CAGR (2014-17) | Operating profit margin (FY2017) | Family Ownership |
| --- | --- | --- | --- | --- | --- |
| Thai Beverage PCL | Alcoholic and non-alcoholic food and beverages and others | 189,997 | 5.3% | 12.4% | 65.9% |
| Berli Jucker PCL | Manufacture, distribute, import, and export packaged food consumer goods | 164,198 | 57.0% | 8.6% | 68.26%-owned by TCC Corporation (family's holding company) |
| Beer Thai (1991) PCL | Beer brewery and production of drinking water and soda water | 23,971 | 23.3% | 5.5% | N/A |
| Beer Thip Brewery (1991) Co., Ltd | Beer brewery and production of drinking water and soda water | 21,492 | 11.9% | 3.7% | 100%-owned by Thai Beverage PCL |
| Sangsom Co., Ltd | Manufacture of distilled and blended liquors | 18,120 | 4.2% | 5.2% | 100%-owned by Thai Beverage PCL |
---
 Appendix E: Srivaddhanaprabha (King Power)
 Prominent Firms Among Srivaddhanaprabha Family
| Company name | Business category | Revenue (FY 2017; THB million) | Revenue CAGR (2014-17) | Operating profit margin (FY2017) | Family ownership |
| --- | --- | --- | --- | --- | --- |
| King Power International Co., Ltd | Duty-free retail | 50,680 | 30.5% | 10.8% | 100.0% |
| King Power Duty Free Co., Ltd | Duty-free retail | 35,515 (2016)* | 5.7% (2013–16)* | 6.5% (2016)* | 100.0% |
| Leicester City Football Club | Football team form Leicester, England | GBP 233.1 million (~THB  10,186 million)** | 150.0% (2015-17) | 39.7%*** | 100.0% |
| King Power Tax Free Co., Ltd | Duty-free retail | 5,051 | 13.2% | 6.2% | 100.0% |
| King Power Suvarnnabhumi Co., Ltd | Commercial space management | 4,200 | 15.9% | 53.8% | 94.1% |
Source: SPEEDA
*2016 is the latest available figure
**GBP/THB = 43.70
***Pre-tax profit margin
 King Power History on Licence and Concession
| Details of the granted concession/license | Country | Year |
| --- | --- | --- |
| An in-flight duty-free for Thai AirAsia X | Multiple countries | 2014 |
| A duty-free shop at King Power Srivaree Complex | Thailand | 2013 |
| A duty-free shop at Don Mueang airport after its reopening | Thailand | 2012 |
| A duty-free store in King Power Complex Pattaya | Thailand | 2011 |
| An in-flight duty-free operation on Thai Airways' aircraft | Multiple countries | 2007 |
| A duty-free flagship store in Downtown Complex, Bangkok | Thailand | 2006 |
| Duty-free shops in multiple airports – Don Mueang, Chiang Mai, Hatyai and Phuket | Thailand | 1997-06 |
| A duty-free shop at Central World Shopping Complex | Thailand | 1997-06 |
| A duty-free shop in Kai Tak airport | Hong Kong | 1995-97 |
| A general merchandise at the Great Wall of China | China | 1995-97 |
| Duty-free operation in Phnom Penh | Cambodia | 1991-02 |
| Duty-free shop at Mahatun Plaza | Thailand | 1989-94 |