Global 5G Race — Will Asia Speed to the Lead?
Once launched, fifth-generation wireless standards (5G) are set to impact a range of industries globally. On the back of exponentially higher speed and superior connectivity relative to 4G, the influence of 5G should be seen not only in the mobile broadband industry, but also in the Internet of Things (IoT), autonomous automobiles, healthcare, and artificial intelligence (AI).
However, telecommunication industry news and research provider Telecom Asia believes 5G will initially impact mainly mobile broadband, which should account for over 90% of total 5G connections by 2025E. This view is supported by regulators in countries such as China, Japan, and South Korea, who are freeing up higher band frequencies (needed for data traffic) for 5G deployment. Moreover, Groupe Spéciale Mobile Association (GSMA; the trade body representing mobile operators' interests) expects growth in 5G connections in the Asia Pacific region to trail that of 4G during the first five years since commercial launch. However, we expect connection growth to continue strongly in 5G (rather than slow, as happened with 4G) as it continues to penetrate a range of industries and is adopted by more countries beyond the first five years. We believe 5G could display similar trends to 3G in the Asia Pacific region: 3G connections continued to grow at stronger rates even ten years after launch and was possibly equally revolutionary in terms of added features.
 Given that the launch of 5G is likely to centre around mobile broadband usage, the Asia Pacific region is well positioned to initially lead the 5G market. As per GSMA, the Asia Pacific region will account for around 61% of global 5G connections in 2025E. This should be driven by the region's large mobile subscriber base; the commitment of regulators, vendors, and network operators to successfully pioneer the rollout of 5G; and planned large-scale, pre-commercial launches of 5G at global events (such as the winter and summer Olympics). Moreover, although South Korea is likely to be the first to launch 5G commercially (in 2019E, ahead of China and Japan, who are set to launch 5G commercially in 2020E), China should lead the market by 2025E. The International Telecommunication Union (ITU) expects China to account for around 39% of global 5G connections and about 64% of Asian 5G connections by 2025E. China's early lead should be spurred by its large user base and by the collaboration of vendors Huawei and ZTE with network operators China Mobile, China Unicom, and China Telecom to ensure effective 5G penetration.
 5G Potential Far Superior to Predecessors'
 The new and fifth generation of wireless standards, 5G, is expected to be rolled out commercially during 2019–20. It is set to make a breakthrough in internet broadband technology, with higher speeds and greater device connectivity driving its use across multiple industries. Based on ITU standards for International Mobile Telecommunications (IMT), 5G has the potential to reach speeds of around 20 gigabytes per second (Gbps), which is at least 20x faster than 4G speeds (0.01–1.00 Gbps); this should support significant growth in data traffic and enhance the use of new technological products such as AI and virtual reality. The ITU also notes that 5G latency (the time it takes for a data packet to travel from one node to another) could be as little as 1–4 milliseconds (compared with 10–98 milliseconds for 4G) and therefore support a wide array of industries such as autonomous vehicles and mobile healthcare. Furthermore, with an exponentially larger device density of around 1 million devices per square kilometre (compared with around 2,000 devices per square kilometre for 4G), 5G enhances the use of IoT. Although 5G should be a positive for several industries, Telecom Asia believes that mobile broadband will be the first and main industry to benefit from it. Telecom Asia projects that mobile broadband will account for over 90% of total 5G connections by 2025E (after its launch during 2019–20). In terms of its impact on other industries, while 4G allowed the technology industry to test and experiment with innovative technologies such as IoT, AI, and virtual reality, 5G should help unleash their true potential.
 Substantially higher speeds and connectivity functionalities indicate that the move from 4G to 5G could be similar to that from 2G to 3G in terms of features added. For instance, the introduction of 3G opened the door to video conferencing, mobile television, and video transfers, among others; 5G is similarly likely to enhance other industries and to possibly create new ones. For instance, the Chinese government intends to create smart cities in the future, with higher connectivity among devices, and the prevalence of the IoT should enhance this.
Source: Compiled by UZABASE based on various materials
Note: 1 Gbps = 1,024 megabytes per second (Mbps); 1 Mbps = 1,024 kilobytes per second (Kbps)
Note: The year refers to the year of initial launch, although the speeds, latency, and density do not necessarily correspond to characteristics at the initial launch
Note: 5G is likely to be commercially rolled out during 2019–20; however, a pre-commercial 5G trial took place in South Korea during the winter Olympics in February 2018
Source: GSMA, "5G Spectrum: Public Policy Position"; Prescouter, "How will 5G impact different industries?"
Note: The illustration is indicative only; the list of industries is not exhaustive
Note: Although certain characteristics have a higher impact on certain industries, most industries require a mix of 5G features
Source: Ericsson, "The Industry Impact of 5G"
Note: The illustration is indicative; the list of industries is not exhaustive
---
 Asia Pacific to Lead Global 5G Market, Aided by World's Largest User Base and Early 5G Rollout
 The Asia Pacific region is likely to lead the global 5G market in the near term, as it has the largest share of mobile broadband subscribers to 4G (the latest mobile broadband technology) globally. GSMA expects the Asia Pacific region to account for around 61% (0.7 billion subscribers) of the 1.1 billion 5G subscribers expected in 2025E, followed by Europe (with 0.2 billion subscribers; about 19% of global subscribers). With respect to 4G, the Asia Pacific region accounted for nearly two-thirds of global 4G connections in 2016, while its share of mobile broadband subscribers rose to 52.5% in 2016 from 37.7% in 2012. This was driven primarily by increased mobile broadband penetration, which rose more than 3x over 2012–16 to about 48% in 2016 (from around 14% in 2012). GSMA expects the region to continue to increase mobile broadband penetration to around 63% by 2020E as it progressively addresses concerns relating to infrastructure, affordability, consumer readiness, and content.
 Demand stemming from the large and growing user base in the Asia Pacific region is likely to be met through the efforts of the countries currently taking leadership in the early and successful roll-out of 5G — South Korea, China, and Japan.  The Asia Pacific countries' attempts to roll out 5G early are evident in several ways: regulatory support for the freeing of spectrum, collaboration between vendors and network operators, as well as pre-commercial 5G trials at global events. Regulators in China, South Korea, and Japan have released spectrum primarily in the 1–6 Giga Hertz (GHz) band, as well as in the above–6 GHz categories (needed to meet the higher broadband speeds envisioned). Although the USA and Europe have also freed the same bands (as well as below 1 GHz for IoT use), the South China Morning Post (a news provider) noted that economic uncertainty and issues in some European countries (such as the UK) in rolling out 4G effectively could hinder 5G deployment in the future. Furthermore, pre-commercial 5G pilots in South Korea (e.g. winter Olympics 2018), Japan (summer Olympics 2020), and China (5G trials in over 100 sites in 2019) also support the likelihood of a successful commercial launch in the Asia Pacific region. GSMA expects 16 other Asia Pacific countries including India, Australia, and Hong Kong, to rollout 5G services as well.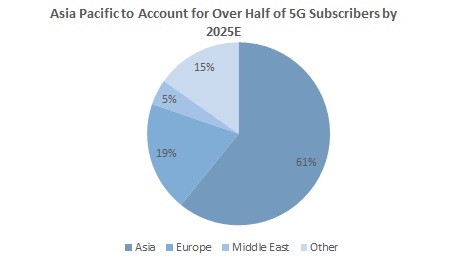 Source: GSMA, "The Mobile Economy: Asia Pacific 2017"
Source: GSMA, "5G Spectrum: Public Policy Position"
 •    China to Take Early Lead in 5G Connection Sales in the Asia Pacific, Despite South Korea Possibly Launching Before China Does
 South Korea intends to launch 5G commercially in 2019, and this would make it the first country to do so. However, its lead is likely to be short-lived, given China's larger customer base and greater vendor and network commitment to rollout 5G from 2020 onwards. This view is reflected in ITU's forecasts: it expects China to have about 428 million 5G connections in 2025E, accounting for around 39% of global 5G subscribers and about 64% of Asian 5G subscribers. In 2016, China had around 10x and 4x the mobile broadband users of South Korea and Japan, respectively, despite having 41.8 mobile broadband connections per 100 inhabitants, lower than both South Korea (108.6) and Japan (121.4). Moreover, end-user industries such as mobile phone manufacturing in China are also preparing for the 5G roll-out; six Chinese smartphone makers (Lenovo, Oppo, Vivo, Xiaomi, ZTE, and Wingtech) are already working towards producing 5G-ready devices in 2019. Chinese vendors ZTE and Huawei have shown stronger commitment to a 5G roll-out than they did with 4G. Viavi (a provider of network testing, monitoring, and assurance solutions to communications service providers) noted that the two players accounted for around 29% of 5G trials by vendors as of February 2018. In contrast, for 4G, news network CNBC noted that neither player was among the top 10 owners of intellectual property rights. Moreover, while the Chinese giants have collaborated on 5G tests with the three main telecommunication providers – China Mobile, China Unicom, and China Telecom – they have also conducted trials with various European and Japanese network providers (such as NTT Docomo).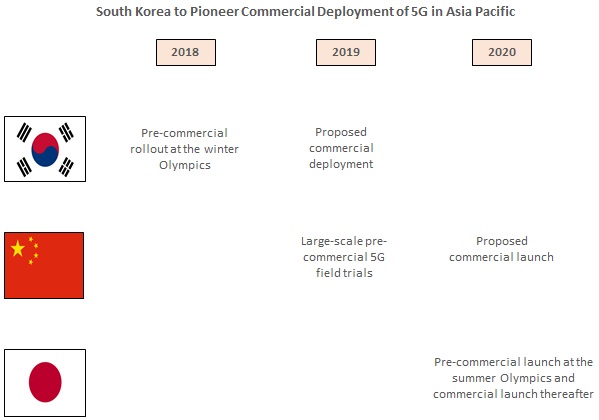 Source: GSMA, "The Mobile Economy: Asia Pacific 2017"
Note: Pre-commercial launches noted above refer to the large-scale 5G pilots in the respective countries
Source: Knoema, "Mobile broadband subscriptions per 100 inhabitants"; World Bank, "Population"
Note: Bubble size represents each country's population in 2016
Note: The number of mobile broadband subscribers is an approximate figure calculated based on the population and mobile broadband subscribers per 100 inhabitants
Source: Compiled by UZABASE based on various materials
Note: The list of players is indicative and not exhaustive
Note: NTT Docomo will partner with Huawei for 5G trials at the summer Olympics 2020; It has also worked with Qualcomm, Ericsson, and Nokia for other 5G trials (including 5G new radio technology trials)
---
 5G Connection Growth in Asia Pacific Likely to Be Slower Initially than 4G's but More Sustainable
 GSMA forecasts indicate that the uptake of 5G in the Asia Pacific region following its commercial launch will initially be slower than for 4G. It expects 5G mobile broadband connections to rise at a CAGR of about 132% over 2020–25E to around 669 million, compared with an estimated 167% growth in 4G connections over its first five years of its commercial launch (2012–17), reaching roughly 780 million in 2017. GSMA reports that 4G penetration in the Asia Pacific region rose to around 36% in 2017 from about 1% in 2012. In contrast, the slower growth of 5G connection sales and higher mobile broadband subscribers in the market indicate that 5G penetration will be slower in its initial years, potentially because the roll-out will be limited to a fewer countries and industries (primarily in data traffic). However, 5G connection sales could grow at a stronger pace after the initial years (i.e. beyond 2025E) as it is rolled out to other industries. We believe this could follow the growth trend seen with 3G mobile broadband, which continued to grow at stronger rates even 10 years after commercial launch. Moreover, GSMA believes that 4G connection growth is slowing substantially even five years after its launch.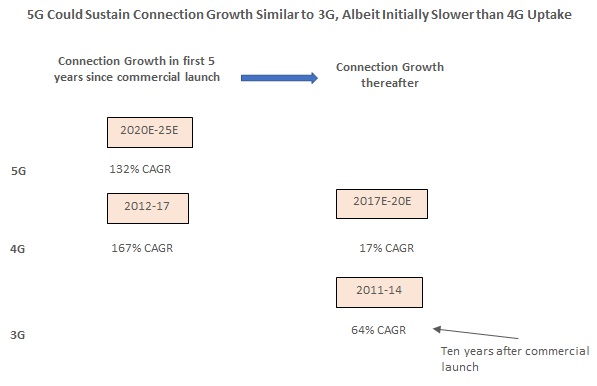 Source: Compiled by UZABASE based on various materials
Note: Values for growth in 3G mobile broadband connections were not available for the first five years from commercial launch
Note: The number of 4G connections was derived by multiplying penetration (as per GSMA) and mobile broadband connections in the Asia Pacific region (as per Statista and GSMA)
Source: GSMA, "The Mobile Economy: Asia Pacific 2017"; Statista
Note: The number of 4G connections was derived by multiplying penetration (as per GSMA) and mobile broadband connections in the Asia Pacific region (as per Statista and GSMA)
Note: 4G connection numbers for 2019E were not available