Economic Aftershocks in Kumamoto, Japan Following Massive Earthquake
Kumamoto Home to 64 Companies with Revenue Larger than JPY 10 Billion
 On 14 April at 9:26pm, Kumamoto Prefecture, located in the Kyushu region of Japan, was hit by an earthquake with a seismic intensity of 7 (Japanese standard). Aftershocks with high seismic intensity have been continuing since. Currently, nine people have been confirmed dead, with more than 860 people injured. Fortunately, there was no tsunami this time.
 Although the overall situation remains unclear, we have extracted a list of companies headquartered in Kumamoto to try and gain a better understanding of the economic impact on the prefecture. There are 13,710 companies headquartered within Kumamoto, of which 64 companies have revenue of more than JPY 10 billion (including companies not included in SPEEDA). The number of companies in each city is noted in the map below, along with the top 10 companies on a revenue basis.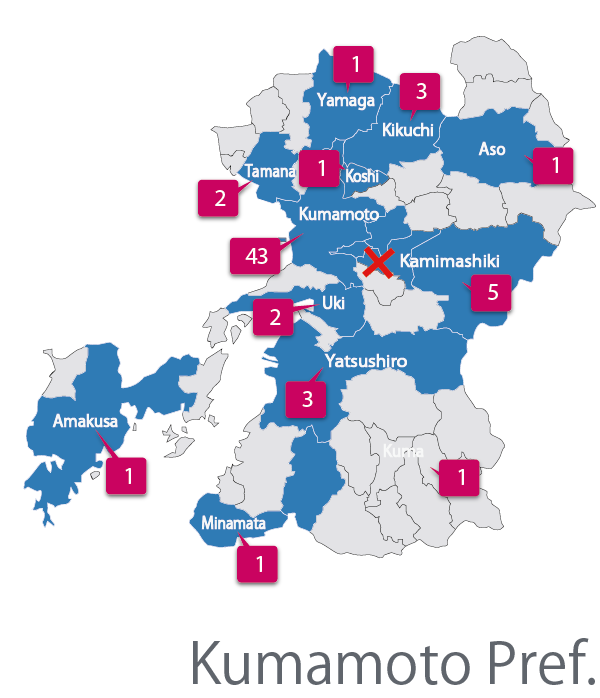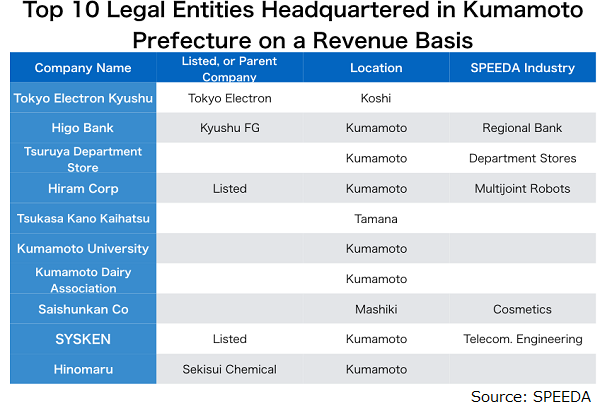 Kumamoto Prefecture a Hub for Semiconductor Manufacturing
 In addition to the companies listed above, there are a number of companies that are headquartered outside of Kumamoto but own factories within the prefecture. Notably, Kumamoto/Kyushu is known as a semiconductor hub in Japan. For example, Sony has three image sensor fab manufacturing plants in Kyushu, with one located in Kumamoto Prefecture.
 Below are lists of companies and factories related to the semiconductor industry in Kumamoto, sourced primarily from the "Kyushu Semiconductor Related Supply Chain Map" (Kyushu Semiconductor & Electronics Technology Innovation Association/SIIQ).
 Semiconductor
Renesas Semiconductor Kyushu/Yamaguchi, Kumamoto Kawajiri Factory [System LSI]
Mitsubishi Electric Corporation, Kumamoto Factory [Power Semi]
Sony Semiconductor, Kumamoto Technology Centre [Image Sensor]
J-Devices, Kumamoto Factory (formerly Renesas Kyushu) [Assembly/Testing]
Tera Probe [Testing]
 Semiconductor Production Equipment (SPE)/Materials
Tokyo Electron Kyushu, Goushi Factory [Front-End SPE]
Horiba, Nishihara Factory [Mass Flow Controller (MFC, component used for Front-End SPE)]
Teradyne, Kumamoto Factory (Back-End SPE)
HOYA, Kumamoto Factory (Semiconductor/LCD Photo Mask)
 Current Situation
 News reports and company press releases have reported minor damage to factories such as cracks in the walls. However, there has not been any significant damage confirmed so far.
 Sony, Mitsubishi Electric, and Horiba have announced that they will suspend their plant operations today. Sony's image sensor is used for major smartphones, including the iPhone. Mitsubishi Electric's power semiconductors are said to be used for Toyota's best-selling hybrid car, the Prius.
 In addition, Honda has its main domestic bicycle factory located in Kumamoto. NewsPicks' Editorial Industry/Corporate Research Team has investigated the situation within a few hours of the earthquake and learned that Honda has decided to close the factory until the afternoon of 15 April. Resuming of operations will be determined by further inspection on the damage situation. Meanwhile, the safety of the plant's workers is yet to be confirmed.
 (Photo by Masterpress/Getty Images)